REFORM: Belgian national operator SNCB has undertaken a radical restructuring of its freight business to create a more commercially-focused business. But, as group co-ordinator Geert Pauwels explains, there is a lot still to do to ensure the incumbent keeps growing in an increasingly-competitive market.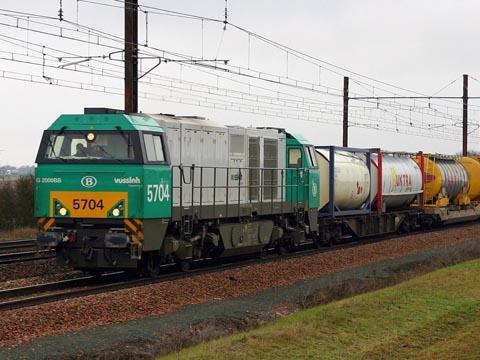 SNCB and B-Cargo have often been accused of not providing a sufficient standard of service to their customers: it is claimed that too often we react to the market rather than approaching clients to ask what they want.
Whilst I am not suggesting that all such criticism is necessarily accurate, it may not be wholly unfounded. Under the restructuring of SNCB Groupe Fret which took effect in 2008, we will in future be able to offer a much more commercially-minded service - the kind of service that our customers have the right to expect.
The reorganisation is really a continuation of a long process of reform begun by SNCB Chief Executive Marc Descheemaecker in 2003. In addition to B-Cargo, which is the operating side, Groupe Fret now comprises three commercial divisions, each of which are specialist companies focused on particular customers. Rail Force manages automotive and chemicals business, IFB and TRW handle container and intermodal services, and Xpedys is responsible for steel traffic and other bulk goods.
Our major objective is to ensure that key clients enjoy a single point of contact at SNCB. In the past, there was sometimes a lack of clarity about who does what - for example, IFB had some responsibility for major chemicals customers such as Solvay and ExxonMobil, but BASF dealt primarily with B-Cargo. Now Rail Force handles all our chemicals customers and liaises with them to provide the services which are most appropriate.
Competitive threat
SNCB's principal freight flows consist of steel and similar bulk goods, followed closely by intermodal traffic - these two sectors account for around 80% of our business. The intermodal market is growing fastest however, and it is subject to the fiercest competition.
I believe that the level of competition in our home market has been generally under-estimated, and so we need to get into the best possible shape to ensure that we are able to defend our market share.
Among our rivals, we face new entrants such as TX Logistik and DLC/Crossrail which are actively seeking new business in Belgium. Meanwhile, we have an ambiguous relationship with SNCF, which acts as our partner in more than one international project, but as a competitor in our home market. The company is manifestly trying to strenghten its foothold here and it has dozens of locomotives able to operate in Belgium.
It is a pity that, despite numerous attempts, we have been unable to develop a more significant co-operation arrangement with them.
Clearly, the global financial crisis will have a significant impact upon our business, although we hope to limit the decline in revenue to 10% overall this year. We have developed an exhaustive action plan for our commercial arms in order to get more business by expanding our services. This will focus on the provision of complementary logistics activities as well as conventional rail haulage.
Another means to combat the downturn will come through targeting international growth. Naturally, our neighbouring countries offer immediate opportunities. I believe we can still expect growth in traffic to and from France, the southern Netherlands and over the German border.
How we exploit these key corridors will vary however: clearly in France we intend to operate our own services independently with locomotives approved to operate over the border (p25). But looking eastwards, we hope to develop our successful partnership with DB Schenker. Our preferred option for international growth is through partnership, but we realise that this is not always possible, and, as in France, we may have to look at ?other options.
Unfortunately B-Cargo continues to make an operating loss, and this is something which we will have to reverse as soon as we can — not an easy task in the current climate. We are analysing our costs in great detail to ensure we are as lean an operation as we can be, but our competitors are also doing the same. SNCB's freight business is worth €780m and employs 6 000 people, so we are blessed with great potential. We have a lot of work to do in the years to come, but now we have a clear vision to aim for.
Geert Pauwels became group co-ordinator at SNCB's freight division in May 2008. SNCB's freight group includes operator B-Cargo plus commercial arms Rail Force, IFB, TRW and Xpedys. Prior to joining SNCB, Pauwels was CEO of IFB for three years and previously held several positions at McKinsey.
This article is based on an interview by Pieterjan van Wyngene in DVV Media Group's Belgian logistics magazine Transport Echo.