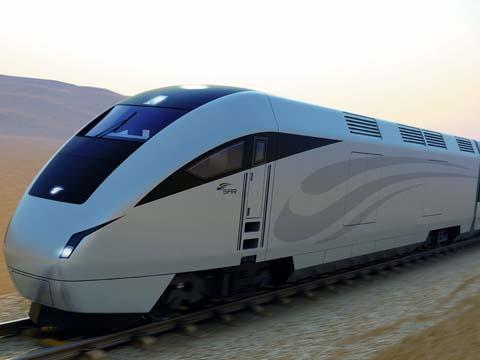 SAUDI ARABIA: Interfleet Technology has completed initial designs for passenger trainsets to run on the future North-South Railway. The 200 km/h trainsets will have diesel-electric locomotives at each end, and must cope with sandstorms and temperatures of 50°C in the Great An-Nafud Desert.
Executive, business and economy class accommodation is planned, along with restaurant and sleeping cars.
An industrial design team led by Luis Chomiak worked with Saudi Railway Company to develop conceptual designs, taking into account cultural and passenger requirements with input from SAR's in-house designers and consultants Louis Berger and Canarail.
A passenger service strategy was developed to detail SAR's aspirations, and this was then used to produce the interior and exterior design concepts and vehicle layouts.
The first freight trains are expected to begun using the North-South Railway by the end of 2010, with passenger operations from 2012. 'Interfleet's work will form an integral part of the tender documentation when it is released to potential train builders', said Chomiak. 'We look forward to seeing services running north out of the capital Riyadh to the cities of Ha'il and Al Haditha and an eventual extension to Amman, Jordan in the near future.'
Saudi Railway Company Deputy CEO, Operations, Dr Rumaih M Alrumaih described the North-South Railway project in detail in the August 2009 issue of Railway Gazette International.