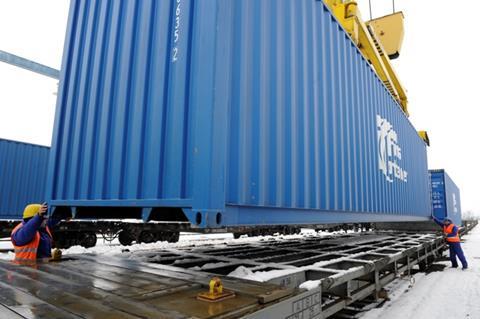 ARMENIA: Russian intermodal operator TransContainer has expanded its international network with the launch of its first service to Armenia, in co-operation with the South Caucasian Railway. An initial shipment on October 7 carried containerised traffic for Russian aluminium supplier Rusal.
As a subsidiary of Russian Railways, TransContainer is developing its networkj of international agencies through co-operation with various European and Asian railways and other partner organisations. The company already has offices in Germany, Latvia, Belarus, Ukraine, Uzbekistan, and China, plus agents in Japan, South Korea and Turkey. It is also active in Finland through the ContainerTrans Scandinavia joint venture.
TransContainer has now established a co-operation accord with SCR, the RZD-owned company that operates the Armenian rail network under a 30-year concession awarded in January 2008. Under the agreement, SCR is responsible for the transport and tracking of containers through Georgia and Armenia, accepting incoming cargo, dealing with documentation and customs formalities, as well as terminal handling and freight forwarding services for both international and domestic traffic.
TransContainer believes that this initial venture will pave the way for the expansion of container operations in the trans-Caucasus region, as well as door-to-door delivery services. In the longer term, the company says that it is considering the potential for opening its own office in Armenia.