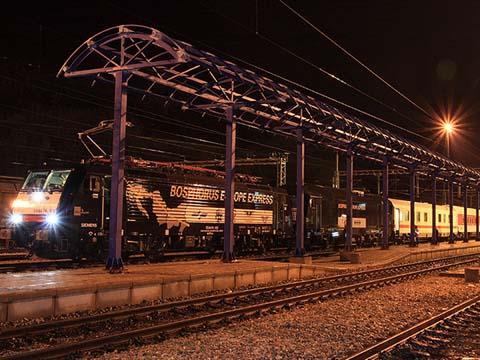 EUROPE: Headed by two gleaming black locomotives, the Bosphorus Europe Express pulled into the Halkal? Container Terminal in Istanbul's western suburbs on the evening of March 17, just 35 h after setting out from Ljubljana at 08.30 on the morning of March 16.
The record-breaking container train was organised by the Balkan Business Advisory Council in association with five state-railways, SŽ in Slovenia, HZ in Croatia, ZS in Serbia, BDZ in Bulgaria and TCDD in Turkey. The project was intended to demonstrate the potential for rail operations on Trans-European Corridor X, with a target journey time for the 1 577 km of 37 h, compared to the current typical timing of around 60 h.
Technical support for the project was provided by DB, with strong personal backing from its Chairman Hartmut Mehdorn. The train was double-headed by two locomotives provided by München-based leasing company MRCE Dispolok GmbH, in the form of a Siemens Eurosprinter ES64 F4 four-system electric loco to run on the 3 kV DC and 25 kV 50 Hz systems and a Eurorunner ER20 diesel for the non-electrified sections in Serbia and Bulgaria.
Our correspondent reports that bureaucratic problems in Croatia, along with objections from the the train drivers workers union, meant that the train had to be hauled by HZ 1141 electric, with ES64F4 and ER20 dead in tow. But even this was not allowed to delay the rapid progress.
With only Slovenia and Bulgaria being EU member states, border crossings were expected to prove a problem, but aAgreements with the customs authorities helped to keep the delays at the border crossings down to a maximum of 30 min required for technical formalities and brake tests.
Being a promotional train, the Bosphorous Europe Express was given maximum priority throughout the journey, unlike the average freight train. According to MRCE Managing Director Dirk Steffes, the trial demonstrated that 'the train is twice as fast as the lorry' which takes between 48 h and 57 h to cover the same route.