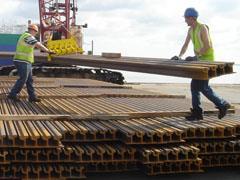 SPAIN: As part of project to build a 532 km route between Fuengirola and Estepona that is expected to carry 100 million passengers a year, the Andalucía regional government has awarded two contracts to build the 4 km section in tunnel between Las Lagunas and La Cala de Mijas.
A joint venture of Detea, Obras Suterráneas, Rafael Morales and Vías is to excavate one bore under a contract worth €817m, to be completed within 42 months and including tracklaying to 1435 mm gauge. The second bore will be dug by Azvi and Ferrovial for €82m, with provision for an underground station serving La Cala de Mijas.
Work to prepare the other 12 route sections between for tendering is in its final phase. The Ministry of Development is funding work to place the existing suburban route to Fuengirola in tunnel between the centre of Málaga and the airport, as well as remodelling at Sa n Andrés, Gualdalhoce and Aeropuerto.