SBB plans widespread cost-cutting and job losses in a bid to counter the growing deficits at its freight business.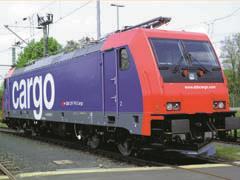 SWITZERLAND: Drastic action was the order of the day on March 6 when the board of Swiss Federal Railways sanctioned a programme of cost-cutting in a bid to compensate for mounting losses at SBB Cargo.
In 2006 the business had lost SFr37·3m, and by the middle of last year it was clear that the future was looking grim. SBB Cargo chief Daniel Nordmann resigned in August, passing the helm to his deputy Nicolas Perrin, but the situation had already deteriorated badly. The 2007 figures, which were due to be announced in Zürich on April 2, are little short of disastrous. SBB Cargo's operating loss rose to a 'massive' SFr87·9m, to which must be added extraordinary items and write-offs totalling SFr102·5m, making a total of SFr190·4m.
In a bid to stem the tide of red figures, SBB set up a taskforce last summer (RG 11.07 p703). This recommended a recruitment ban, a halt to investment and renegotiation of SBB Cargo's performance contract; these were implemented in the autumn. The taskforce also prepared what SBB President Thierry Lalive d'Epinay described as 'a thorough analysis' to serve as the basis for decisions. Following intensive discussions with government, cantons, trade unions and other interested parties, SBB drew up a package of changes expected to save SFr70m a year, although restoring SBB Cargo's financial health is expected to take at least two years.
The entire business is affected, with overheads at the Basel headquarters where SBB Cargo moved in 2001 a top target for economies. The organisation will be slimmed down, work processes improved and 300 jobs lost, of which 65 are posts not filled since recruitment was halted last year. Sales and order processing will be concentrated at Basel, along with the activities of the customer service centre at Fribourg which opened in 2000; 114 staff will be relocated, but this change alone will account for 51 of the 300 job losses.
SBB has little room for manoeuvre, but prices will be increased where possible for both domestic and international traffic. Improvements to operations, purchasing and administration should bring further savings, with the cost of traction power and wagon leases expected to fall. SBB says customers will not be affected. For the moment at least there is no intention to cut back on domestic wagonload services to the remaining 323 terminals, and the plan to cut the government's subsidies for wagonload from SFr17m to zero this year will go ahead.
Major changes are planned in loco and wagon maintenance, to deal with overcapacity in the workshops at Biel, Yverdon and Bellinzona. Heavy maintenance of all SBB locos will be concentrated at Yverdon, with 126 jobs cut at Bellinzona, 18 moved to Chiasso and at least 10 to Yverdon. Biel works would cease to maintain tank wagons and 46 jobs would move to Basel. Freight wagon maintenance would be concentrated at Bellinzona, where SBB plans to bring in the private sector to develop a wagon maintenance business able to compete on the inter­national market - despite the collapse of an earlier agreement with Alstom for a similar project in Biel. Letters of intent have been signed with four private companies, including Ferriere Cataneo SA of Guibiasco.
Predictably, the plans have enraged the trade unions, which promptly called a strike at Bellinzona. As this affects the availability of SBB's loco fleet, the board decided at an extraordinary meeting on March 16 to put the plans for Bellinzona on ice for two months to allow time for negotiations.
Justifying its cost-saving measures, SBB points to deregulation of the Swiss rail freight market. 'In no other country in Western Europe did the incumbent lose market share as quickly as SBB on the Gotthard corridor', where lucrative transit traffic had consistently provided good returns that helped make up for losses on domestic services. Attempts to win international traffic in Germany and Italy were successful in terms of gaining business, but these were high-cost ventures at a time when rival operators were forcing down prices.
There have been calls from the Swiss road haulage association for 30% to 40% of SBB Cargo to be sold to the private sector. In a cautiously-worded statement SBB said that 'SBB Cargo is an attractive co-operation partner' and that the various offers would be assessed, although 'a total sale is out of the question'. With changes to the structure of BLS Lötschbergbahn also in prospect, the Swiss transport ministry has some tough decisions ahead.
Competition is intended to drive up service quality and make operations more efficient. If the price of on-rail competition through Switzerland is the future collapse of the wagonload business, putting more freight traffic on Swiss roads, it will be regrettable to say the least. Perhaps it is more remarkable that domestic wagonload has survived for so long in such a small country.
CAPTION: In the red: heavy losses at SBB Cargo may start to impact on the domestic wagonload network for which government subsidies end this year.