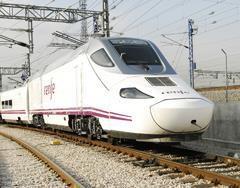 SPAIN: Infrastructure authority ADIF has awarded a joint venture of Dragados, FCC, Copisa and Tecsa a €206m contract to build the third underground route connecting Atocha and Chamartín stations in Madrid, comprising two 1 435 mm gauge tracks for use by high speed services. The 7·3 km route will run for 6·9 km in tunnel, to be excavated mainly by TBM. The contract also includes tracklaying and remodelling the southern approaches to Chamartín.
High speed traffic into Atocha is set to grow in 2010 when the route to Valencia via Motilla del Palancar is expected to enter service. From bases at Requena and Gabaldón, tracklaying is now in progress on the 105 km Gabaldón - Siete Aguas section, requiring 393 074 sleepers, 25 700 tonnes of type 60 E1 rail and 590 030 m³ of ballast. Rail.One is to install Rheda 2000 ballastless track in 14 tunnels on the route.
The second bore of the longest tunnel on the route, running for 7·25 km through the La Cabrera range on the Siete Aguas - Buñol section, was holed through on September 25. During construction by FCC and Sando, ADIF says that a new world record for tunnelling was set seven times, with the fastest rate of 92·8 m in one day achieved in August this year using a double-shield TBM.
Tracklaying is now also in progress on the Gabaldón - Albacete section, which will form part of the route to Valencia via La Encina and Xàtiva. The Ministry of Development has received cabinet approval to call tenders for two contracts within a total budget of €229·7m, involving the construction of 36·3 km of new double-track 1 668 mm gauge infrastructure to enable the existing route between La Encina and L'Alcúdia de Crespins to be converted to high speed operation.