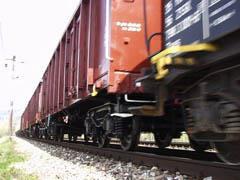 CZECH REPUBLICH: Reporting results for the four months of 2010, national rail freight operator ČD Cargo announced that its earnings were once again positive, following the losses in 2009 as a result of the economic recession. ČD Cargo achieved EBITDA of KC377m and earnings before tax of KC1m for the period from January to April, compared to a loss of KC334m for the same period in 2009. This is despite depreciation charges for 2010 which were KC40m higher than the previous year as a result of increased investment in locomotives and wagons.
ČD Cargo carried 23·5 million tonnes during the four months, up 13% on the same period in 2009. Tonne-km rose by 4·4% to 3·88 billion, generating revenues of KC3·94bn which are 5% up on the same period in 2009.
Chairman & CEO Josef Bazala said the 'positive and continuously improving results indicate an improvement of the company's business strategy', confirming that the measures put in place to react to the crisis were paying off. 'We have cut costs extensively, made our procedures more effective, and applied a new approach to business policy, resulting in a 24% year-to-year increase in labour productivity', he reported.
With its results for May also in line with predictions, ČD Cargo expects to achieve its 2010 business plan, with EBITDA of KC1·3bn for the full year and an EBT of around KC150m, according to Marketing & Communications Director Zdeněk Větrovec.