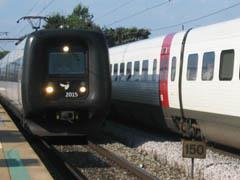 DENMARK: Travellers in Denmark can now use the Google Maps website to plan multi-modal public transport trips. Users type an address or click on the start and end points of their journey, and Google Transit provides details of train and bus times and connections along with a map of the suggested route.
Information on 1·5 million departure times and 22 000 stops was supplied by Rejseplanen, a national travel information company owned by a consortium of Danish transport operators. This was converted into Google's format by Swiss IT firm Netcetera ready for the launch on May 25.
'I am delighted that we are the first place in Europe which can present an entire country's rail and bus information on Google Maps', said, DSB S-tog Managing Director Gert Frost.