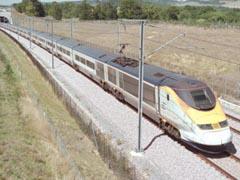 EUROPE: Five years after the collapse of Project Jupiter, another attempt has begun to transform Eurostar from an unincorporated tri-national partnership into a single coherent entity. The operator confirmed last month that negotiations were underway to position the business ready for the introduction of competition in the international passenger sector from January 1 2010.
Following the granting of European state aid approval for the restructuring of London & Continental Railways (RG 7.09 p9), Secretary of State for Transport Lord Adonis announced on June 25 that the UK government was 'in the course of concluding negotiations' over Eurostar. As well as the advent of competition, which will demand a more flexible and responsive decision-making process, the current management contract for Eurostar UK Ltd expires next year.
Deutsche Bahn's efforts to secure paths through the Channel Tunnel appear to have added urgency to the process. When the UK government announced its plans to break up LCR, then DB Chairman Hartmut Mehdorn raised the prospect of buying Eurostar UK Ltd (RG 2.09 p28). Although SNCF President Guillaume Pepy dismissed the suggestion as 'premature, presumptuous and arrogant', we hear that SNCF immediately stepped up its lobbying against DB and its open access freight subsidiary Euro Cargo Rail.
Under the current proposal, LCR would hand over Eurostar UK and its assets in exchange for around 40% in the unified business, which would be a UK-registered company. SNCF's stake would fall from 62% to 55%, but the majority holding would still give it greater control compared to the current arrangements under which the three partners need to reach consensus.
The deal was approved by the SNCF board on July 10, but it has yet to be ratified by the other shareholders. SNCB may want to relinquish its 5% stake, but to preclude any hostile move SNCF has reportedly negotiated a right to buy should its partners decide to sell.
Although the immediate threat may have receded, DB is still expected to try and break into the London market. Eurostar told us on July 24 that 'we fully expect a competitor to come on the line in due course'.