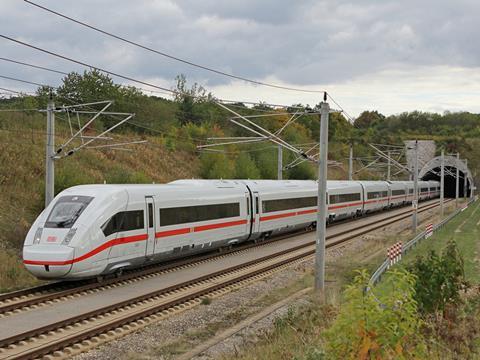 GERMANY: Deutsche Bahn group has reported a positive year in 2022, closing with an adjusted EBIT of just over €1∙25bn compared with an operating loss of €1∙55bn in 2021.
Group revenues increased by 19∙1% to reach a record of €56∙3bn thanks to high demand for passenger services and a strong performance from logistics subsidiary DB Schenker.
Despite poor punctuality, DB Fernverkehr's long-distance services carried around 61% more passengers than in 2021 when traffic was still badly affected by the Covid-19 pandemic. DB Regio's revenue was up by around €1bn, with a 63% growth in traffic thanks in part to the promotional €9 ticket that was available during summer 2022 ― a total of 52 million €9 tickets were sold.
Despite an increase in revenue, DB Cargo recorded a loss on turnover of €5∙2bn which DB blamed on 'difficult operating conditions and additional expenses'.
Deutsche Bahn performance in 2021-22
2022
2021
Passengers carried, rail million
1 980
1 413
Passenger-km, rail million
82 642
50 831
Passengers/day, rail million
5∙4
3∙9
Passenger train punctuality %
91∙0
93∙8
DB Fernverkehr %
65∙2
75∙2
DB Regio %
91∙8
94∙3
Tonnes carried million
222∙3
226∙5
Tonne-km million
84 468
84 850
Average train load tonnes
499∙4
502∙0
DB Cargo punctuality %
66∙1
69∙8
Capital expenditure for DB Group rose by more than 6% to €6∙8bn, rising to €15∙4bn when state-funded investment is included. Net financial debt was €28∙8bn, slightly below the 2021 figure.
DB CEO and Management Board Chairman Dr Richard Lutz said that DB Group's core business was improving. 'Climate-friendly mobility is booming. Demand is good and is continuing to grow strongly. We may well set a new record in 2023 with more than 150 million passengers on our long-distance trains.'
Chief Financial Officer Dr Levin Holle flagged up the performance of DB Schenker, describing it as 'a success story with a strong position in all the relevant industry sectors … DB Schenker has the potential to continue delivering excellent results in the coming years.'
Holle also warned that high energy costs and inflated purchase prices would be a burden on DB Group's development in 2023, adding that 'in the difficult conditions of 2023, we must take care to balance DB Group's expenses and income in an economically viable way.'