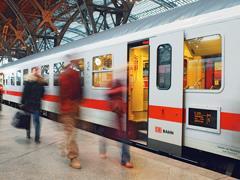 GERMANY: The federal government has effectively cancelled the partial flotation of DB Mobility Logistics.
On November 5 the Finance Ministry stated that the DB ML IPO could not go ahead before the general election in September 2009 unless market conditions improved - something which a ministry spokesman conceded was unlikely, adding that the government's 2009 budget did not include revenue from the sale.
Last month DB continued to suggest that it might seek to place the shares privately, but any sale would need to be completed by February because the figures used to prepare for the IPO would by then be out of date. In the meantime, failure to go ahead with the sale would leave DB with a €1bn hole in its 2009 budget, according to reports in Financial Times Deutschland.
Further controversy about the already-contentious sale emerged at the end of October, in an unseemly row about bonus payments to DB board members. The supervisory board, whose members included Secretary of State for Transport Matthias von Randow, had agreed to the payments in June, but von Randow apparently neglected to inform his boss, Transport Minister Wolfgang Tiefensee.
When it became clear in mid-October that the IPO would not go ahead as planned on October 27, the bonus issue hit the headlines, and Tiefensee promptly dismissed von Randow on the grounds that he should have been told about the payments. It subsequently emerged that Tiefensee had in fact known in September, if not earlier, leading to calls from opposition parties for Tiefensee's scalp.
Chancellor Angela Merkel quickly expressed confidence in her Transport Minister, but DB was incensed, not least because of Tiefensee's suggestion that board members should voluntarily turn down their bonuses. On November 3 DB issued a statement saying that it was 'disappointed and surprised' at the minister's comments, adding pointedly that matters about remuneration should not be discussed publicly.
The affair was debated in the Bundestag on November 13, when the FDP and the Green party forced a vote calling for Tiefensee's dismissal. This was defeated by 414 votes to 156.