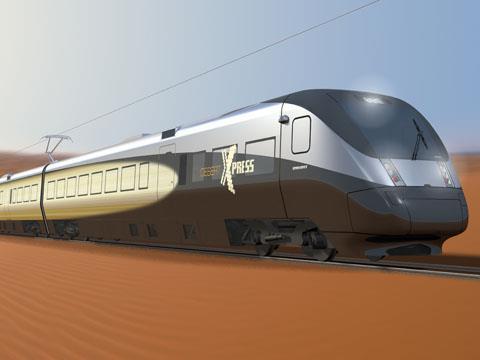 USA: Public consultation hearings are taking place this week in California and Nevada into the Environmental Impact Statement for the privately-promoted DesertXpress high speed line linking the southern California region with Las Vegas. The meetings in Las Vegas, Victorville and Barstow follow approval of the Draft EIS by the Federal Railroad Administration on March 18.
DesertXpress Enterprises hopes to start construction next year on the 295 km electrified route, which would parallel Interstate 15 across the Mojave desert between Las Vegas and Victorville, which lies north of the San Bernadino mountains on the edge of the Los Angeles conurbation. Work is expected to take around four years, at an estimated cost of $3·5bn to US$4bn, generating several thousand jobs at a time when unemployment in California is rising rapidly.
With trains operating at up to 240 km/h, the target journey time is put at 1 h 24 min. The line is projected to carry 10 million passengers a year from 2015, rising to 16 million by 2030. Describing the I-15 corridor as 'one of America's most-congested transportation corridors', the promoters estimate that road-to-rail modal shift could reduce CO2 emissions along the route by 165 million tonnes.
An independent study prepared for the Southern California Logistics Rail Authority by BSL Management Consultants found that DesertXpress was 'clearly the most practical and viable alternative' compared to a maglev proposal costing up to $52bn.
According to DesertXpress backer Tony Marnell, 'this project will provide significant benefits to both California and Nevada and is coming on line at the perfect time, with the government recognizing the need to find viable, alternative solutions for cleaner and more efficient modes of transportation.' He believes that it 'can be the model for other similar projects throughout America, demonstrating how private enterprise can partner with government to develop solutions that fulfil needs that may otherwise not be feasible in today's economy.'
In the longer term, DesertXpress says the line could be extended westwards by 80 km from Victorville to Palmdale, where it would connect with the California High Speed Rail network linking San Diego, Los Angeles, San Francisco and Sacramento.