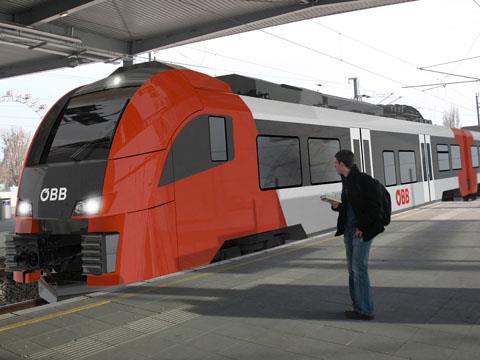 AUSTRIA: On April 20 Siemens Mobility announced a framework agreement to supply Austrian Federal Railways with up to 200 Desiro ML regional electric multiple-units over five years.
Similar to trains currently being built for Belgium's SNCB, the 160 km/h Desiro ML will be equipped for use in Germany, where ÖBB is competing with DB Regio, BeNEX and Veolia for a contract to operate Werdenfels-Netz services. The Austria national operator has confirmed that this first bid outside its home country will be followed by others.
For the framework agreement ÖBB has opted for a basic three-car Desiro ML with 217 second class seats suitable for commuter and regional services. They will be built at Krefeld or Wien, and an option for Siemens to maintain them would take the total value to €1bn. ÖBB can also extend the framework agreement beyond 2015.
Siemens Mobility CEO Hans-Jörg Grundmann said he was pleased to have won one of Europe's largest tenders for regional EMUs, which 'shows how successful our new designs are on the market and underscores our innovative strength'.