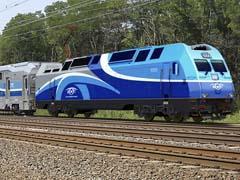 CANADA: The first trainset composed of double-deck cars made its inaugural trip on Montréal's Mont-Saint-Hilaire commuter line on November 23.
The Québec government awarded a C$386m contract for 160 coaches to Bombardier Transportation in December 2007, and the first unit was unveiled at Bombardier's La Pocatière plant on August 21.
The remaining coaches for AMT's Mont-Saint-Hilaire line will be commissioned at the rate of one per month. Further double-deck cars for the Dorion - Rigaud line, the Blainville - Saint-Jérôme line and the Delson - Candiac line will be delivered progressively during 2010. The new coaches for the electrified Deux-Montagnes line will enter service once Bombardier delivers a fleet of 20 electro-diesel locomotives in 2011.
Each coach has 142 seats plus benches on the intermediate level to accommodate 200 passengers, cycle racks and toilets located in the cab car. The new cars will increase capacity on the current network by 70% and provide resources to operate the proposed Train de l'Est.