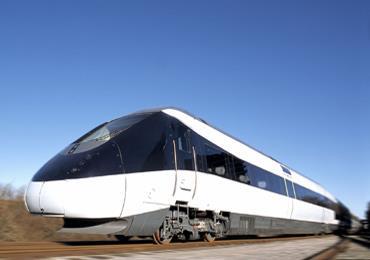 DENMARK: Another chapter in the painful saga of DSB's 200 km/h IC4 inter-city DMUs opened in June, when the state-owned operator issued an ultimatum to AnsaldoBreda. With delivery now more than five years behind schedule, DSB has told its Italian supplier that if 14 functional trains have not been delivered by May 2009, with at least one approved for multiple-unit operation, the DKr5bn contract will be cancelled and it will seek compensation.
Ordered in December 2000 after an international tendering contest, the 83 four-car DMUs were intended to replace IC3 sets on services between København and northern Jylland. Under the five-year 'Good Trains for All' programme, the Pininfarina-styled IC4s were due to be delivered between March 2003 and July 2005. By November 2005 only two trains had arrived, and the builder agreed to pay DKr250m in compensation (RG 1.06 p5).
Only in June 2007 did the first train carry passengers on a regional trial service. But testing was suspended again in March this year 'on technical grounds' - reportedly because the exhaust system had become so badly worn that staff could no longer put up with the stink.
Following delivery of the IC4s, DSB had planned to transfer the IC3s to regional services in Sjaelland, replacing aging loco-hauled commuter trainsets. However, the operator will now have to lease additional double-deck coaches to serve the growing commuter market.
The decision to order the Italian DMUs rather than continue the 25 kV 50 Hz electrification north from Fredericia is now seen as one of the biggest mistakes in Danish transport policy. Social Democrat spokesman Magnus Heunicke, who like Transport Minister Carina Christensen is firmly supportive of DSB's action, suggested that electrification of the main line to Århus should be pushed forward as quickly as possible.