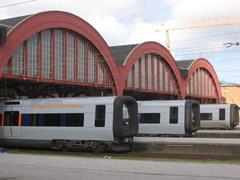 SCANDINAVIA: The DSBFirst partnership of Danish state railway DSB and UK-based transport operator FirstGroup took over the operation of train services in the Øresund region of Denmark and southern Sweden on January 11.
The services are operated under separate but jointly procured contracts in each country.
The Swedish operating franchisee is owned 70% by DSB and 30% by FirstGroup, and provides services from Malmö to Karlskrona, Göteborg and Kalmar. The main contracting party is Skånetrafiken, with separate contracts with a number of counties.
The Kystbanen franchise for services in Denmark was awarded by the country's National Rail Authority. The operator is owned 75% by DSB and 25% by FirstGroup, and replaces DSB.
DSBFirst operates up to 18 trains an hour between Helsingør and København, and six trains an hour over the Øresund bridge; there are plans to increase cross-border services to 12 trains an hour.
Both franchises run to 2015, with an optional two-year extension, and the total combined turnover is estimated at DKr7bn.