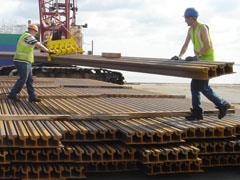 TRACK: Bayer MaterialScience has acquired global marketing and usage rights to the Durflex trackform technology from Hyperion Verwaltung GmbH.
The technology was developed by Hyperion in co-operation with track design specialist Frenzel-Bau. It is based on the use of Bayer's Bayflex polyurethane foam, which is fed into the space between ballast particles. This provides a more stable track structure and a reduction in track-borne noise.
The rights acquisition paves the way for wider application of the technology outside Germany, where it has been extensively tested at one site on the BVG network and one site on the main line between Hannover and Hamburg. It was also tested on two sections of track in China at the end of 2009. Bayer also expects to increase investment in the purchase of specialist rail vehicles for installing Durflex, which are supplied by Hennecke GmbH.