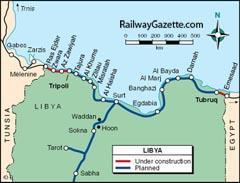 MOHAMMED Abdulsamed Ali, Chairman of the Railways Executive Board in Libya, has revealed details of progress with building a 3170 km national network. The Great Socialist Libyan Arab Jamahiriya is planning to spend US$10bn on two major routes, the first of which is currently under construction.
This will not be Libya's first railway - an Italian-built line once linked Suluq, Banghazi and Al Marj, but this ceased to operate in 1965. The standard gauge single track railway now being built will run parallel to the coast from Ras Ejder on the Tunisian border, via Surt, to Emesaad on the Egyptian border, ultimately creating a through route between the three countries. The line will serve 10 ports, which between them handle 10 to 15 million tonnes of freight each year. From Surt another line will run 1000 km south to Sabha, with a branch to Tarot.
The network will in due course have 96 stations and is to be built in four stages:
Stage 1 Ras Ejder - Surt;
Stage 2 Surt - Banghazi;
Stage 3 Banghazi - Emessaad;
Stage 4 Surt - Sabha, plus the branch to Tarot.
The Surt - Sabha route runs south into the heart of the country and will allow access to large mineral deposits. Iron ore is located at Wadi Shati near Sabha, and unit trains will run to the steelworks at Misratah. Much of the traffic along the coastal route will be cement, oil, gas, and agricultural products.
The lines were to be constructed following a five year plan from 1998, but this proved impossible. This year, the Railway Executive Board, formerly known as the Railway Authority for Projects, Construction & Operation, has agreed with the General Authority for Transport & Communication (the transport ministry) to adopt a more realistic 10-year timescale.
The section between Ras Ejder and Tripoli was designed in the 1980s, but the plans have since been reworked to reflect modern standards. Earthworks between Ras Ejder and Surt are being constructed by local contractors, and are now 60% complete. According to Mohammed Abdulsamed Ali, tracklaying will begin in 18 months, and the line should open in three years, although he acknowledges that this is optimistic.
The new lines will require construction of 240 km of access roads, 554 bridges, 1205 culverts, and 115 million m3 of earthworks. While much of the alignment runs through relatively flat country, there are potential problems in building a line through the highland region between Egdabia and Tobruq in the northeast. This means that an alternative inland route may be chosen.
The steelworks at Misratah will supply materials for the construction works, but there is no mill to produce the 370000 tonnes of 60 kg/m rail needed for the network, and this will be imported. A concrete sleeper factory at Al Khums will produce 500000 monobloc sleepers a year, and the total requirement is for 6·8 million.
Rolling stock
Director of Signalling & Communications Naffati el Ghul said that the Railways Executive Board had identified a need for 244 diesel-electric locomotives and more than 8500 other items of rolling stock. Most will be freight wagons, but there will also be a significant number of passenger services requiring a fleet of modern coaches.
Around 10000 people will be employed during construction, and operation will provide 25000 jobs. The infrastructure is designed for a 22 tonne axleload. With a maximum gradient of 0·6%, the line has a design speed of 160 km/h, though it is planned to run the passenger services at 120 to 140 km/h; freight will operate at 80 to 110 km/h.
The station serving the capital, Tripoli, will be situated in a development area 10 km from the city centre, and it is planned to construct a light rail route to link the station with the city.
There are future plans to extend the Sabha line to landlocked Chad, creating a north-south transit corridor. Mohammed Abdulsamed Ali described this as 'a dream - but helpful for the future', and Rites of India has been contracted to conduct a feasibility study. In the long term ambitions to provide a link to Sudan may be realised.
Many countries restored diplomatic relations with Libya in 1999, opening up trade opportunities. Mohammed Abdulsamed Ali said that Libya is looking for contracts for railway equipment, and is 'happy to negotiate any proposal'.
CAPTION: Chairman of Libya's RailwayExecutive Board Mohammed Abdulsamed Ali and Director of Signalling & Communications Naffati el Ghul spoke to Railway Gazette International on November 27