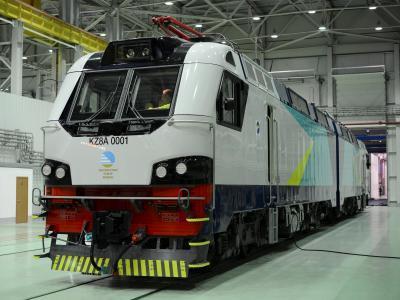 KAZAKHSTAN: The EKZ joint venture of national railway KTZ, Alstom Transport and Transmashholding held an inauguration ceremony for its locomotive production plant in Astana attended by the country's President Nursultan Nazarbaev on December 4.
As part of a technology transfer agreement with the French supplier, EKZ will manufacture 285 electric locomotives to two designs in Astana under a framework contract worth €1·3bn placed in October 2010. An initial batch of 10 KZ8A twin-section freight locomotives is being built at Alstom's Belfort plant in eastern France, the first having been rolled out on October 2 and shipped to Astana for the celebrations. KTZ has so far ordered 200 KZ8A locomotives and a further 95 KZ4AT single-unit passenger locos.
Although initially employing 47 staff, the 27 522 m2 factory is expected to recruit up to 650 employees by 2016 to enable the production of 100 locomotives per year. EKZ staff will be trained both at Belfort and at TMH's locomotive factory at Novocherkassk in southern Russia.
The first KZ8A locomotive is currently undergoing approvals testing to Russian standards before dynamic running trials on the KTZ network begin in January.
'With this plant, Alstom has established a strong footprint in Kazakhstan', said Alstom Chief Executive Patrick Kron. 'It is our first joint international project with TMH and I am positive that it is a milestone on the way to future development of the partnership'.