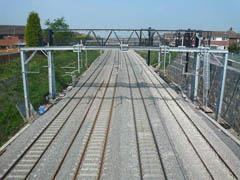 EUROPE: KEMA has acquired German firm ELBAS Elektrische Bahnsysteme Ingenieur-Gesellschaft mbH and a 50% stake in ELBAS Schweiz AG, in a deal which the Dutch-based consultancy said will strengthen its global Rail Power Systems consultancy practice in the German-speaking countries.
Founded in 1991, ELBAS provides consulting and engineering services for power supplies, overhead lines and signalling, with a particular strength in power simulation software. The company's headquarters is in Dresden, with offices in Berlin, Stuttgart and Zürich.
KEMA and ELBAS have co-operated in the rail market for 10 years, with their most recent project being advising Dutch infrastructure manager ProRail on CO2-neutral power supplies.