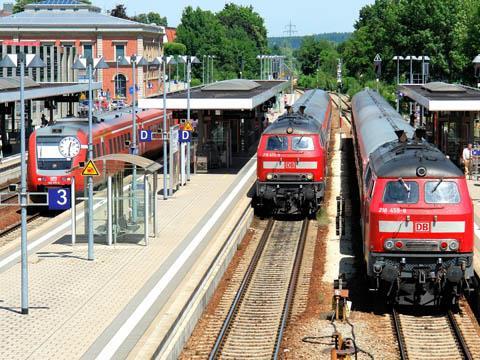 GERMANY: An agreement for electrification and infrastructure upgrades between München and Lindau in Bayern was signed in Memmingen on April 17. Tilting trains will be able to run at 160 km/h, cutting München – Zürich journeys from 4 h 10 min to 3 h 15 m by 2015. Services will be increased from three to six return trips a day, which is expected to lead to a doubling of passenger numbers.
Work will begin next year to electrify the 155 km Geltendorf – Memmingen – Lindau line and upgrade the parallel Buchloe – Kempten – Lindau route. A new Lindau-Reutin through station will eliminate the need for reversals and locomotive changes at the current Lindau Hbf on an island in the Bodensee.
The total cost of the work is put at €210m. Switzerland has agreed to provide €50m interest-free loan running to 2025, and the Land of Bayern is lending €55m.