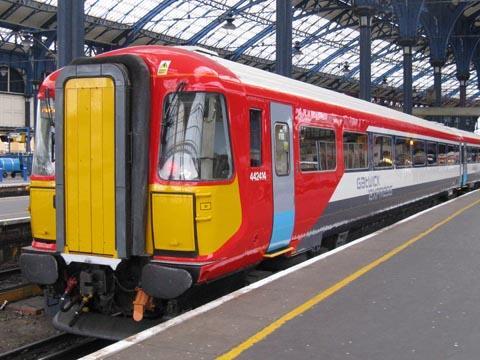 UK: As part of a shake-up of London - Brighton services which saw the Gatwick Express dedicated airport service absorbed by commuter operator Southern in June, on December 9 Southern began returning to traffic 17 third-rail EMUs which have been refurbished after having being withdrawn by South West Trains in 2007.
Leasing company Angel Trains has funded the £10m refurbishment of the 20-year old units, with the interiors being reconfigured for use on London - Gatwick - Brighton services carrying both air passengers and long-distance commuters.
The work was undertaken by Railcare in Wolverton. While the trailer cars only required an interior refit, the 12-month project timescale was driven by the need for a major rebuild of the central motor cars, where the removal of compartments and a buffet required significant structural changes including the cutting of new window apertures in the MkIII bodyshell.
Inside, the five-car trains have been fitted with 48 first and 644 standard class seats from Chapman, and more luggage space has been provided. The windows have been fitted with laminated glass, and an information system installed which will provide multi-lingual announcements between London and Gatwick. The trains are now fitted with CCTV and equipped for driver-only operation.
The refurbishment is expected to see the trains through to at least 2015, by which time they will be getting on for 30 years old and new accessibility legislation may make further use difficult.