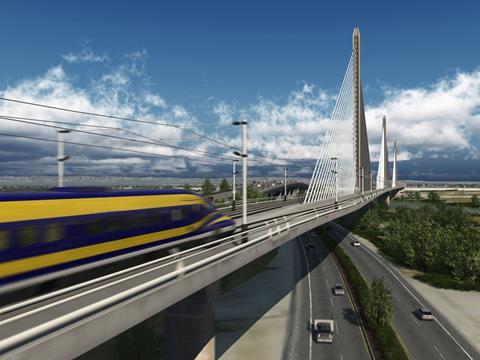 USA: The board of the California High-Speed Rail Authority on September 10 approved the Final Environmental Impact Statement for an 80 km section of the planned high speed railway between Merced and Fresno, known as the 'Central Valley Wye'.
The formal approval means that environmental clearance has now been achieved for all 275 km of the planned Central Valley section of the San Francisco – Los Angeles corridor between Merced and Bakersfield.
'Today's approval by the Board represents another major milestone for this project as we have now completed the environmental reviews for the entire stretch between Merced and Bakersfield', said CHSRA Chief Executive Brian Kelly. 'I'd like to thank our local and regional partners for their continued collaboration as we work to implement the project in the interest of California and the Central Valley's future.'
The approval marks a significant milestone in the authority's efforts to deliver a scaled-back high speed service, after California governor Gavin Newsom put the plans for a 1 300 km state-wide network in doubt last year. The original vision of a route linking the San Francisco Bay area to Los Angeles has been truncated to Bakersfield, although planning and preliminary design work continues to assess the best option to take the line south through the Tehachapi Mountains to Los Angeles and potentially Anaheim.
More than 4 300 construction jobs have already been created along a 190 km section of the alignment through the Central Valley, including 32 construction sites in Madera and Kern counties.
However, the long term outlook for the project remains highly uncertain. Last year, the federal government sought to claw back from CHSRA grants worth almost $3∙5bn on the grounds that the original plan for a San Francisco – Los Angeles service would not be delivered under the revised proposals. It also argued that the project had made insufficient progress since the money was allocated a decade ago. The state is currently taking legal action to prevent the return of the funding.