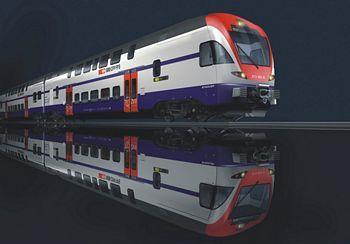 STADLER: A former tank farm at Erlen in the Swiss canton of Thurgau has been selected as the location of Stadler's future train commissioning facility. The IBS Centre will supplement test tracks at the train builder's Bussnang and Altenrhein plants which are too short to hand the 50 six-car double-decker trainsets ordered by SBB for Zürich commuter services and 50 Flirt EMUs ordered by NSB.
A site in Romanshorn was considered for the IBS Centre before Stadler chose Erlen, which has a direct connection to the Zürich - Romanshorn line.
The total investment in the IBS Centre will be around SFr35m to 40m, and 60 people will be employed. There will be six tracks where vehicles assembled at Altenrhein and Bussnang will undergo six weeks of testing and commissioning. The halls will be about 220 m long and 40 m wide, able to accommodate trainsets up to 200 m long.