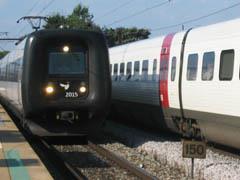 DENMARK: Infrastructure manager Banedanmark has awarded a 12 -year contract for consultancy services throughout its national resignalling programme to a joint venture of Rambøll, Atkins, Emch+Berger and Parsons.
The contract is worth DKr1bn, and includes advice on tendering, supplier oversight, implementation of early deployment schemes by 2015 and final rollout by 2021 (RG 3.09 p39).
In January the government approved the DKr22bn roll out of ETCS Level 2 across the entire Danish mainline network, covering around 3 240 of running line, 560 trainsets and locomotives from four major operators. Metro-style CBTC is to be installed on København S-bane routes.
'Internationally, there is no precedent for an upgrade of an entire country's signalling system', said Tonni Christiansen, Director of Rail at Rambøll. 'However, the rest of Europe will be taking on similar projects in the coming years, and we are excited to be the first to take on the challenge, in essence setting a standard for how this can be done.'