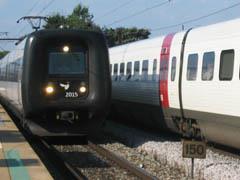 DENMARK: Banedanmark has announced plans to replace all signalling on the country's national rail network by ERTMS over the next 12 years. Much of the existing equipment is obsolete or nearing life-expiry, and the infrastructure manager has been working for two years to develop an optimum renewal strategy for both the main lines and the København S-bane.
The favoured option, which has been presented to the government for formal approval, will see all main lines and branches equipped with ETCS Level 2.
Banedanmark plans to replace everything from train detection point machines and interlockings to train control and traffic management systems. All lineside signals will be removed, and a completely new set of operational rules will be developed. A separate moving-block CBTC system is envisaged for the S-bane network, given the need to achieve metro-style service frequencies.
Total cost of the programme is put at €3·3bn, including all infrastructure works, project management and the onboard equipment. Final funding approval is expected from the government in January, with work getting underway during the first quarter of 2009 for completion by 2021.
The first step will be to expand the in-house signalling programme organisation and call tenders for consultancy support, and this is to be completed by mid-year. Banedanmark envisages placing four separate contracts for the main works: two covering the main line infrastructure, one for the on-board equipment and the fourth covering the S-bane resignalling.