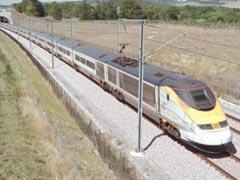 AT THE END of a year that saw revenue increase by 11·7% to £518m, and passengers carried through the Channel Tunnel rise 5·4% to a record 7·85 million, Eurostar Chief Executive Richard Brown told the Railway Study Association in London on January 10 that after HS1 opens in November 'we should be looking at journeys of 4?h at least' to destinations beyond London, Paris and Brussels.
'SNCF are now saying if they can get their journey time below 4 h city centre to city centre they are beginning to compete head-on with the airlines', he pointed out.
But Eurostar has a unique problem. Security and border formalities that typically require 30 min check-in times mean that 'effectively our stations are mini-airports'with controlled secure zones. This severely limits the number of stations Eurostar can serve economically. Operating beyond Brussels to Amsterdam or Köln would require the Eurostar fleet to be fitted with more signalling and electric traction systems, which Brown dismissed as impractical.
Even within the UK, he said 'we will not run our trains north of London until somebody builds a high speed line'. Without it 'the economics are frightful'.So 4 h journeys from Birmingham to Paris or London to Amsterdam will require 'a seamless connection' of at least 30 min, and Brown saw as critical the development of through ticketing by the Railteam alliance.
He expects Eurostar to offer journeys from London to Amsterdam or Köln in 4 h 6 min, to Frankfurt in 5 h 11 min, and to Strasbourg via TGV Est in 5 h 3 min. 'We should be looking at a [rail+air] market share between London and Köln of at least 30% I think our current share is about 3%'. Amsterdam should climb from 'probably not much more than about 1%' to 'of the order of 30%'.