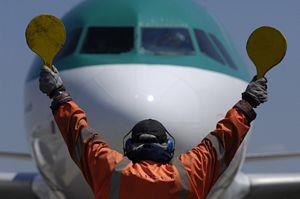 EUROPE: We have long argued that there is considerable scope for high speed trains to replace short-haul flights between cities up to 1 000 km apart. Notable examples include SNCF's TGVs linking Paris with Lyon, Rennes and Avignon, Thalys between Paris and Brussels, and Eurostar on the London - Paris and London - Brussels routes, which have all seen competing flights withdrawn or cut back. RENFE's AVE services between Madrid and Barcelona look like having a similar impact on Spain's busiest domestic air corridor.
One or two airlines have already dipped their toes into the rail market, notably the Köln - Bonn - Frankfurt Lufthansa Airport Express, later replaced by a through-ticketing agreement with DB. Air France replaced its Paris - Brussels flights by chartering dedicated coaches on five Thalys trains each way per day. Air France-KLM also holds a 10% stake in the Dutch rail operator High Speed Alliance.
Now a combination of rapidly-increasing fuel costs and pressure on runway slots at major airports is encouraging more airlines to look at alternatives to their short-haul flights. The completion of several more high speed lines over the next few years, plus the opening up of the international passenger market to competition from January 2010 under the European Commission's Third Railway Package present a perfect opportunity for innovation.
Air France has been looking for some time at running its own trains, claiming that the agreement with Thalys did not allow it to optimise connections with its flights at Roissy Charles-de-Gaulle Airport. Last month Air France confirmed that it was in discussions with Veolia Transport about establishing a joint venture to operate rail services to and from its main hubs at Roissy and Schiphol. SNCF's Director, Europe, Frank Bernard immediately responded with an invitation for Air France CEO Jean-Cyril Spinetta to come and discuss a partnership with the national operator, remarking pointedly to Libération that 'you do not play at running high speed trains'.
Deputy Director-General, Voyages France-Europe, Mireille Faugère subsequently confirmed that SNCF was interested in working with any airlines who wanted to run high speed trains.
Spinetta has cast envious eyes at Alstom's AGV demonstrator, but given the delivery timescale for the NTV order there seems little prospect of Air France being able to source new trains in time for a January 2010 launch. Nevertheless, the gauntlet has been thrown down, and the estab­lished operators in the embryonic Railteam alliance may find some serious competitors on their tracks in the next few years.