UK: Having successfully moved its maintenance facility across London ahead of the start of services on High Speed 1 last year, Eurostar is now working to ensure its Engineering Centre Temple Mills is an environmentally-responsible member of the local community. Nick Kingsley reports.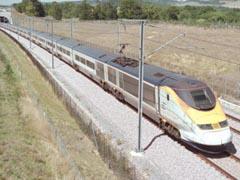 The almost-overnight migration of Eurostar services from London's Waterloo terminus to a renovated St Pancras station on the other side of the city centre last November generated considerable coverage. Less high-profile was the project to transfer the entire maintenance operation across from North Pole depot in the west of the city to a purpose-built facility at Temple Mills, which is connected to HS1 via a single-track branch from the nearby Stratford International station.
Although preparation of the move took months, North Pole only closed its doors as the last Eurostar set departed to work the final train from Waterloo. Interfleet Technology provided support for the testing and commissioning of the depot equipment beforehand. Yet despite the extremely tight timescale, Eurostar's Head of Engineering Production David Bailey emphasises that from day one on November 14, the depot has provided every trainset required for service. 'Ahead of the move, the thing that really made me nervous was not moving all the equipment, it was keeping our staff', Bailey says. 'We were speaking to staff in small groups almost on a daily basis to try to ensure we kept them on board.' In the event, Eurostar retained all but two of its 344 depot staff, despite the fact that many of them face a longer commute to reach the new location.
Regeneration zone
With more than six months' experience of using the depot behind it, Eurostar is now keen to ensure Engineering Centre Temple Mills plays its part in the local community. Situated in Leyton on the site of British Railways' Stratford hump marshalling yard, the depot is in an area that is on the cusp of a vast regeneration programme, catalysed mainly by the 2012 Olympic Games — several of the major sporting venues will be within walking distance of the depot.
Eurostar sees itself as a significant and permanent part of the community, and it is reinforcing existing partnerships with local schools and colleges to ensure that its future maintenance staff will be drawn as far as possible from the locality. Building on a partnership with nearby Newham College that has existed since 1994, Eurostar is now a partner in the recently-introduced Engineering Diploma initiative aimed at 14 to 19 year old pupils.
The depot also provides a range of placements ranging from a few weeks to a whole year, and it regularly welcomes French engineering students keen to gain experience in another country and improve their language skills. In addition, the operator uses local cleaning and security staff, and depot catering is sourced from local suppliers wherever possible to minimise 'food miles'.
Zero landfill
Temple Mills is an integral element in Eurostar's 'Tread Lightly' programme, launched in April 2007, under which the operator has pledged to reduce its carbon emissions by 25% per passenger-journey by 2012. Depot staff have implemented a 'zero landfill' policy to ensure wherever possible that all waste material is either recycled, re-used or disposed of in an environmentally-sensitive manner. Contractor Viridor Waste Management oversees the recycling of 50% of the depot's waste, particularly card, wood and fluorescent lighting tubes. The remaining waste is sent to a combined heat and power incinerator; the energy generated is then used to power local homes.
Energy consumption around the depot is minimised through the use of heat-retaining material on the outer walls of the main building — its heating system has not been required at any point since the facility opened. The office lights use motion detectors which allow them to switch off automatically when not required, and — borrowing from common practice at SNCF's Le Landy TGV depot in Paris — staff use bicycles to travel around the site.
Future expansion
Eurostar's ambition to create a genuinely sustainable depot is not going to stand in the way of its expansion. Although built to cope with the increased workload that is likely to come with rising passenger numbers, there is space adjacent to Temple Mills where a further three full-length stabling sidings could be sited, in addition to the three already available.
The depot is equipped with a separate wheel lathe and bogie drop facility that has twice the capacity of that at North Pole, and wheelset maintenance is a specialist area of focus for the depot. An automated wheelset condition monitoring device supplied by MerMec is being commissioned that will assess wheel profiles dynamically as trainsets enter the depot. Bailey believes this will be the first such device to be introduced at a European high speed train depot. The equipment should ensure that staff can balance re-profiling and tyre-turning across the fleet and factor in wheelset attention to be undertaken alongside other work wherever possible.
Built expressly to avoid repeating the operational constraints encountered by the cramped site at North Pole, Temple Mills has the capacity to undertake all Eurostar's maintenance, but Bailey stresses that for the moment, heavy overhaul work will continue to be shared with Le Landy.
CAPTION: An electronic display board details the status of maintenance work on vehicles in the main building. In the foreground are some of the bicycles that staff are encouraged to use to travel around the site.
CAPTION: The process of removing redundant 750 V DC shoegear at Temple Mills is ongoing. The equipment is being stored rather than scrapped as it is essentially the property of two national governments.
CAPTION: Nose sections occasionally have to be replaced, particularly as a result of bird strikes.
CAPTION: All items in the vast stores warehouse have a location code recorded on a central database to assist staff.