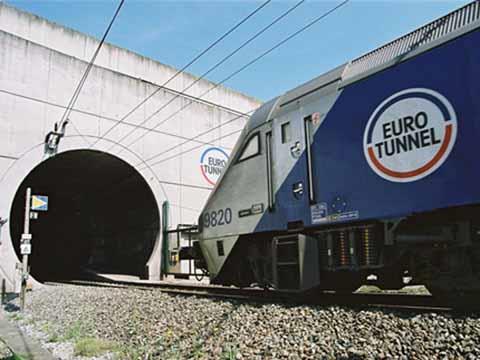 WITH through rail freight in the first nine months of 2007 down to just 1·16 million tonnes, Eurotunnel has slashed and simplified its pricing in a bid to avoid the 'complete disappearance' of this traffic, once forecast to reach 10 million tonnes a year.
The changes announced on October 23 apply immediately and put in place what Eurotunnel terms 'an open-access environment'. A single pricing structure will apply to all operators with a charge per train rather than by tonnage and commodity. The average fee for a 120 km/h path will come down from €8000 to €4500, with charges varying according to speed and time of day.
Eurotunnel guarantees 'equitable and efficient open access to cross-Channel freight facilities thanks to a capping on essential services costs of €600'. This refers to security procedures and the use of Class 92 locomotives, which are the sole type of traction permitted to haul freight through the tunnel. Eurotunnel hopes the changes will bring about 'a rapid return' to the 1998 peak when 3·14 million tonnes passed through the tunnel; it has set a 'development target' of 6 million tonnes.
Significantly, SNCF is handing over operations at Fréthun and traction through the tunnel to Eurotunnel, which will hire out its seven Class 92 locomotives to open-access operators. SNCF will initially provide four more, and the other five in its fleet may follow later.