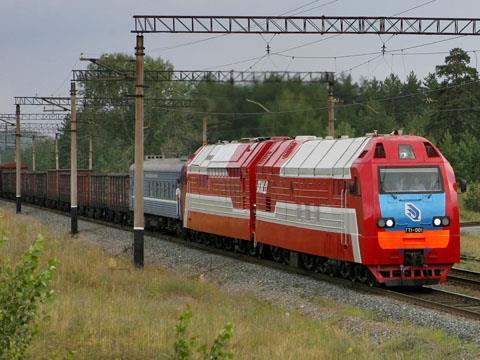 RUSSIA: Russian Railways' experimental GT1-001 gas turbine locomotive hauled a trailing load totalling 10 000 tonnes during trials held last month. RZD's Senior Vice-President Valentin Gapanovich said the run on December 20 demonstrated that the natural gas powered locomotive is capable of hauling heavy freight trains of up to 116 wagons.
Intended for use on non-electrified lines in Siberia and the Urals, the experimental locomotive was designed by the All-Russian Scientific Research & Design Engineering Institute and assembled at Voronezh locomotive works.
One half of the twin-section locomotive contains an NK-361 turbine developed by the Samara research institute, while the other section contains a liquefied natural gas tank with a capacity of 17 tonnes, sufficient to cover around 750 km. The maximum power of the locomotive is 8·3 MW, and its total weight is 300 tonnes.
Experiments with natural gas began as long ago as 1984 under the auspices of the Ministry of Railways. In 2006 RZD estimated that around 34 250 route-km of the then 84 707 km network was suitable for use by gas-fuelled or gas turbine locomotives, and using natural gas could save more than 1 million tonnes of diesel a year.
Boris Lukov will look at RZD's two-stage plan to develop a fleet of modern diesel and electric locomotives in the February 2009 issue of Railway Gazette International. Subscribe today.