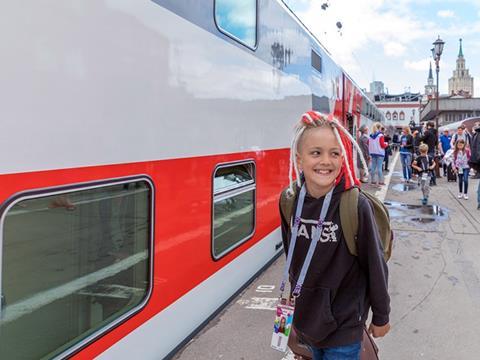 RUSSIA: According to statistics released by Russian Railways, no fewer than 319 000 football fans were carried on the national railway's special free passenger trains during the 2018 FIFA World Cup.
The 'cluster' approach adopted by Russia to group football venues in the west of the country favoured rail as a key transport mode for fans. The most intensively used route was Moscow's Central Ring Railway, a 54 km former freight railway which was opened as an intensive suburban loop in September 2016. This handled 11 million passengers during the World Cup, and not surprisingly the busiest station was Luzhniki, adjacent to the stadium of the same name which hosted several matches including the final.
Over the course of the month, RZD operated a total of 734 special fan trains over 31 routes linking 11 host cities. RZD says that the trains were formed of modern rolling stock featuring facilities for passengers with reduced mobility, air-conditioning and power sockets. More than 2 300 onboard crew members and 4 000 station staff received special training ahead of the tournament. The busiest day was June 24, when 45 special trains were operated used by 26 000 fans. Long-distance business FPK reported that it carried at total of 448 000 fans on its services, including both special and scheduled trains.
'We have received positive feedback from both fans and our foreign colleagues', said RZD Director-General Oleg Belozerov. 'Railway workers contributed greatly to the immense success of the competition. Now we have earned invaluable experience that we can use for future events of a similar scale', he added.
On the horizon is the 2019 FISU International Winter Universiade, which will be held next spring in Krasnoyarsk. RZD intends to invest around 700m roubles in stations at Krasnoyarsk and Abakan to prepare for the student multi-sport games.