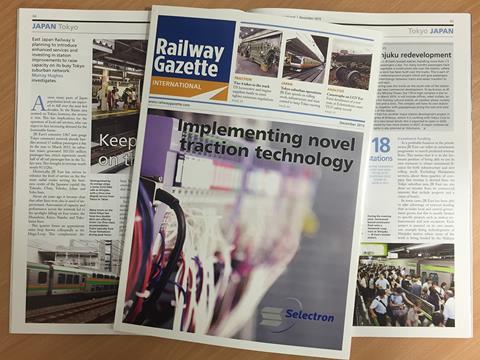 Feature articles in the latest issue of Railway Gazette International, the leading business journal for railway operators and suppliers, read in 140 countries. Subscribe to Railway Gazette International today.
Comment
News
Main Line
Urban Rail
Market
Industry
Innovations
Pointers
Analysis
Report outlines Fyra fiasco, TGV test train derails on LGV Est, Canadian Pacific proposes merger with Norfolk Southern
Traction technology
Tier 4 locomotives take to the tracks
All of the major US diesel locomotive builders now have products developed to meet the EPA Tier 4 emissions requirements that came into force in January, but achieving the standard has not been easy. David Lustig investigates
Hybrid DMU demonstrates energy savings
A five-year development and testing programme undertaken by MTU and DB Regio has demonstrated the benefits of using hybrid powerpacks in place of conventional DMU drives
Novel OLE paves the way for 400 km/h
The KRRI research institute has developed a novel catenary design with an ultra-high strength contact wire in partnership with infrastructure manager KRNA to support test running at 400 km/h on a section of the Honam high speed line in South Korea
A question of interaction
The Sighar computer modelling tool developed by SNCF has helped engineers to understand and address problems of electrical compatibility between vehicle traction converters and the power supply network
Services subsidiary supports Scandinavian shunters
Vossloh Locomotives has set up a dedicated sales and maintenance subsidiary in Örebro as it seeks to adapt to a changing market for shunters and small diesel locomotives
Japan
Keeping Tokyo moving
East Japan Railway is planning to introduce enhanced services and is investing in station improvements to raise capacity on its busy Tokyo suburban network. Murray Hughes investigates
Gold leaves, sushi and anime
West Japan Railway has launched two sightseeing DMUs and has rebranded a Shinkansen trainset. Akihiro Nakamura reports
Depots & workshops
Workshops in focus
Three Bridges hub supports Thameslink EMU maintenance, overcoming electronics obsolescence in München, robots automate bearing overhauls
In focus
Structural reform foreshadows investment
Earlier this year the Portuguese government merged national roads authority EP with railway infrastructure manager Refer to create Infraestruturas de Portugal, heralding an end to railway retrenchment
Research & skills
Forum
People
Dieter
Sidetrack
Diary
Viewpoint
The US railway engineering sector must reflect changing cultural and behavioural patterns among young people to recruit a new generation, argues Brian Lindamood of Arema
Railway Gazette International is the leading business journal for railway operators and suppliers, read in 140 countries. Subscribe to Railway Gazette International today.