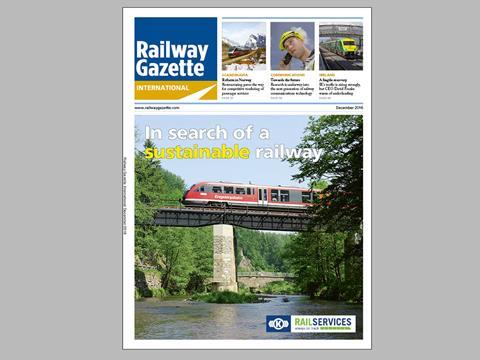 Feature articles in the latest issue of Railway Gazette International, the leading business journal for railway operators and suppliers, read in 140 countries. Subscribe to Railway Gazette International today.
Comment
News
Main Line
Urban Rail
Market
Industry
Innovations
Pointers
Analysis
Wheel life in focus, Czech liberalisation moves forward, Haramain line to open in 2018, Maglev progress as Japan debates economic benefits of high speed rail
Scandinavia
Competition comes through measured reforms
Next year sees the start of passenger liberalisation in Norway, along with the abolition of Jernbaneverket and the creation of a new Railway Directorate. Nick Kingsley reports from Oslo
Västlänken project to reshape Göteborg commuter network
An underground loop with three new stations is set to transform suburban services in Sweden's second largest city from 2026
Advanced TMS will improve operating efficiency
As part of its Signalling Programme, Banedanmark is introducing an advanced traffic management system to underpin service planning and real-time train operations
Communications
A journey towards the future
Research is underway to develop the next generation of railway communications technology, which will enable operators to enhance their capabilities, explains Michael Mikulandra
Offline offload could speed CCTV transfer
Passengers and onboard staff could be incentivised to allow their personal devices to be used as temporary storage for CCTV data
Depots & workshops
Keeping the vandals at bay
Arlanda Express operator ATrain AB has installed a video surveillance system to deter crime and vandalism at its depots and stations
Ore car workshop ready to open
A highly automated workshop near Port Hedland to overhaul BHP Iron Ore's wagon fleet and wheelsets is now in final commissioning
Servicing the Frecciarossa fleet
Trenitalia is investing €20m to expand its high speed train servicing facilities in Milano
In focus
A delicate recovery on the Emerald Isle
Ireland's national railway is slowly returning to growth following the country's severe economic downturn, but recovery is bringing a capacity challenge and underfunding leaves IE facing an uncertain future, as CEO David Franks explains
Double-tracking takes priority
The Thai government is funding a programme of seven schemes as it seeks to enhance speeds and capacity on SRT's metre-gauge network, Deputy Director, Special Projects, Kumpol Boonchom tells Peter Janssen
Research & skills
Young designers to the fore in China, suburban operators benchmarking project, Academy adopts apprenticeship standards
Forum
People
Dieter
Sidetrack
Publications
Diary
Viewpoint
Conference Report
Railways can benefit from monetising sustainability, as the rail sector embraces Global Reporting Initiative approaches. Laura Sofie van der Reijden reports from the UIC Sustainability Conference in Wien
Railway Gazette International is the leading business journal for railway operators and suppliers, read in 140 countries. Subscribe to Railway Gazette International today.