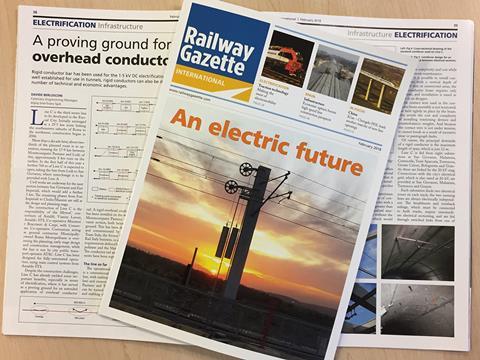 Feature articles in the latest issue of Railway Gazette International, the leading business journal for railway operators and suppliers, read in 140 countries. Subscribe to Railway Gazette International today.
Comment
Reaping the benefits of C-DAS
News
Main Line
Urban Rail
Market
Industry
Innovations
Pointers
Analysis
Evaluating opportunities to grow rail-borne logistics in Asia, SNCF seeks TGV efficiencies, Metrolinx and Bombardier settle LRV order dispute
Electrification
Making the most of electromobility 
 Electric traction is seen as a key way of reducing or eliminating environmentally-damaging exhaust emissions, particularly where advances in power distribution and energy storage technologies can reduce the capital cost
Traction options proliferate 
 The imminent debut of fuel cell-powered trains in Germany has stoked interest in hydrogen as a form of 'zero-emission' traction, but a wider range of alternatives to traditional diesel and electric trains is emerging
A spark of progress 
 The electrification of the Israel Railways network has coincided with the adoption by the Ministry of Transport of EU railway regulations and standards
A proving ground for overhead conductor rail 
 Rigid conductor bar has been used for the 1·5 kV DC electrification of Roma metro's Line C, offering a number of technical and economic advantages
A blossoming partnership 
 Having supplied components for successive generations of French-built EMUs, locomotives and TGV power cars, JST Transformateurs is now expanding in the international market through a close relationship with Hyundai Rotem
Spain
Still moving forward 
  Construction work on further high speed lines in Spain is continuing, despite financial and economic constraints. Meanwhile, FCC Construcción has been able to capitalise on its experience with major contracts in other parts of the world
UAVs support Ertms deployment 
 Having developed advanced drone surveying and post-processing techniques, Sigma-Rail is currently surveying the new Alacant – Murcia high speed line to capture location data for programming of the route's ETCS Level 2 systems
In Focus
Towards a '10 by 10' grid 
 Successive railway master plans have set China on a course to create a 38 000 km network of new lines by 2025. Toma Bačić reviews the routes which opened in 2017 and profiles ongoing construction projects
Connecting up the Gold Coast 
 Full services have started operating on Stage 2 of the Gold Coast light rail line ahead of the forthcoming Commonwealth Games
Research & skills
Shift2Rail issues 2018 call for proposals, apprentices trained for track work at BART
Forum
People
Dieter
Sidetrack
Diary
Viewpoint
Main line and metro operators in Asia face the challenge of long-term asset renewal while maintaining service quality. Arthur D Little offers some options for mitigating the 'totex dilemma'
Railway Gazette International is the leading business journal for railway operators and suppliers, read in 140 countries. Subscribe to Railway Gazette International today.