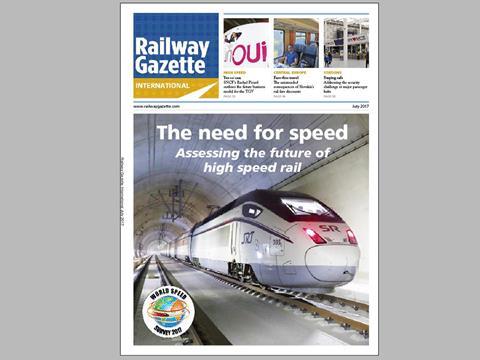 Feature articles in the latest issue of Railway Gazette International, the leading business journal for railway operators and suppliers, read in 140 countries. Subscribe to Railway Gazette International today.
Comment
News
Main Line
Urban Rail
Market
Industry
Innovations
Pointers
Analysis
Analysis
International co-operation discussed at 1520 Forum, Indian Railways to order 25 high speed trains, Europe on the Move strategy unveiled
High Speed
Italy joins the premier speed league
In our biennial survey of the world's fastest scheduled trains, Jeremy Hartill finds that six countries now operate services with start-to-stop average speeds exceeding 250 km/h
Yes oui can
Rachel Picard, Managing Director of Voyages SNCF, explains to Nick Kingsley how SNCF plans to build on the success of Ouigo to revamp its high speed business
Supreme Railways targets breakeven by year end
Murray Hughes looks at South Korean open access operator Supreme Railways, which has been running high speed services since last December
Giruno on target to enter service in 2019
Six test trains are being built to help ensure that Swiss Federal Railways' EC250 trainsets can enter commercial service on schedule, reports Bernhard Studer
Central & Eastern Europe
Network renewals in full swing
Hungarian rail corridors are benefiting from EU-funded enhancements, but there is still a backlog to be tackled, suggests Benjámin Zelki
Learning the lessons of free rail travel
Sebastian arek investigates how widespread discounts for rail travel funded by the Slovakian government have led to significant distortions in the transport sector
Private operators in search of traffic
The Romanian government has decided to rehabilitate parts of the passenger network using funds from European sources, reports Mihai Tudosa
Stations & Terminals
Think security, plan ahead
The key to mitigating any impact of terrorist incidents at railway stations is co-operative working between railway operators and the security services
In Focus
Lean and fit for the future
Bombardier Transportation President Laurent Troger tells Nick Kingsley about a transformation programme that will see significant changes at several of its European plants
Track technology on show
A wide range of innovations was on display at VDEI's 27th International Exhibition on Track Technology, which took place in Münster last month
Broad gauge workhorse
David Lustig reports from Erie as the first Evolution Series diesel locomotive being supplied to Indian Railways by GE Transportation was unveiled on June 1
Research & skills
ONCF hosts African safety summit, Shift2Rail grants awarded
Forum
People
Dieter
Sidetrack
Diary
Industry Watch
We asked our expert panel what steps should be taken to facilitate more rapid modernisation of railways in Central & Eastern Europe
Railway Gazette International is the leading business journal for railway operators and suppliers, read in 140 countries. Subscribe to Railway Gazette International today.