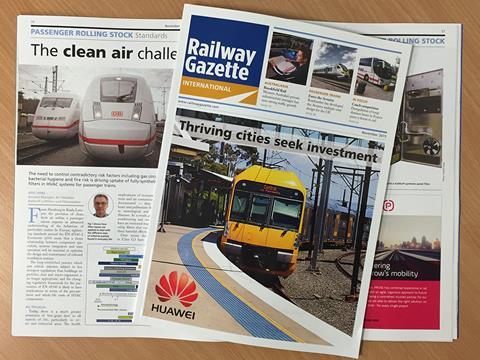 Feature articles in the latest issue of Railway Gazette International, the leading business journal for railway operators and suppliers, read in 140 countries. Subscribe to Railway Gazette International today.
Comment
PTC standoff goes to the wire
News
Main Line
Urban Rail
Market
Industry
Innovations
Pointers
Analysis
South Africa considers a change of gauge, Tianjin high speed hub completed, Fourth Railway Package political pillar moves forward
Australasia
The future lies in cab signalling
Australia's four biggest cities are looking to advanced train control to boost the capacity and performance of their rail networks
Balancing investment to boost capacity
Traffic on the Western Australian network has more than doubled since it was transferred to private management, Brookfield Rail CEO Paul Larsen tells Chris Jackson
Keep carrying the cane
The 610 mm gauge sugar cane railways in Queensland carry more than 36 million tonnes a year in an intensely concentrated season
Queensland Rail adopts advanced power conversion
The power supply on Brisbane's suburban network is being strengthened
Doing it smarter in Melbourne
The Australasian industry gathers in Victoria on November 24-26 for AusRail Plus 2015
Passenger rolling stock
Enter the Aventra
Bombardier Transportation explains the philosophy behind its Aventra EMU design for the UK market
In the line of fire
Pan-European fire safety standards for new rail vehicles come into force from next March
The clean air challenge
The need to control contradictory risk factors is driving uptake of fully-synthetic panel filters in HVAC systems for passenger trains
Class E353 enters traffic
A pre-series tilting EMU to operate Azusa services on the Chuo Main Line between Tokyo and Nagano has been unveiled by East Japan Railway
Seating & interiors
Innovation round-up
Injection moulding shapes monorail seats, first class TGV seat offers a 'bubble of well-being', Translink NI Railways to refurbish Belfast – Dublin trainsets
In focus
French coach deregulation poses another threat to rail
Legislation lifting restrictions on long-distance coach services threatens to take more traffic from SNCF's passenger business
An open and transparent market
Steady growth, firm profitability and a liberalised environment make the Scandinavian rail market an attractive prospect for both international and domestic suppliers, according to a new study
Research & skills
Kamkor Locomotive staff visit Knorr-Bremse, UK and China plan joint high speed research
Forum
People
Dieter
Sidetrack
Diary
Viewpoint
Viewpoint
Nick Brooks advocates a licensing approach that would allow the open access model to replace franchising on Britain's inter-city routes
Railway Gazette International is the leading business journal for railway operators and suppliers, read in 140 countries. Subscribe to Railway Gazette International today.