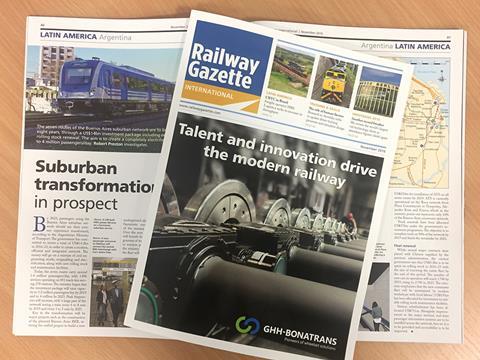 Feature articles in the latest issue of Railway Gazette International, the leading business journal for railway operators and suppliers, read in 140 countries. Subscribe to Railway Gazette International today.
Comment
Ride the digital wave in small steps
News
Main Line
Urban Rail
Market
Industry
Innovations
Pointers
Analysis
Turkmenistan's ambition to become a central Asian transport hub, Private funding sought by Tazara, Wales seeks a different approach
In focus
North-south passenger service to launch next year
Saudi Railway Co is taking delivery of a fleet of 200 km/h inter-city diesel trainsets from CAF
Latin America
Adding capacity on the Steel Railway
Brazil's MRS Logística has completed the installation of communications-based train control on its busy Steel Railway
Rehabilitation makes slow progress
A series of contracts has been awarded in recent years for refurbishment of key rail corridors in Uruguay, but the lack of a clear long-term policy is limiting the use of the network, reports Marcelo Benoit
Suburban transformation in prospect
The Buenos Aires suburban network is to be transformed over the next eight years through a US$14bn investment package
Training & skills
When do I put the brake on?
Research now underway in Australia is looking at how drivers absorb and process route knowledge
Developing a railway of all the talents
UIC is leading an international initiative aimed at overcoming barriers to attracting the best talent to the rail sector through ambassadorial work and fostering academic and professional exchanges
Reaching out and drawing them in
Through an increasingly popular outreach programme, Arema is working to attract civil engineering students into the rail sector
App helps holistic approach to skills management
An app for competency management that encompasses a focus on non-technical skills and human factors has been developed in the UK
Whole-life skills in focus in Widnes
Alstom has begun construction of a multi-purpose factory and training academy near Liverpool
Bogies & wheelsets
Rolling into the future
Wheelset manufacturers and railway engineers are gathering in Chengdu this month for the 18th International Wheelset Congress, taking place on November 7-11
Bogie test rig opens
A bogie test facility has opened at the University of Huddersfield in the UK
InnoTrans 2016 review
InnoTrans 2016 attracts record audience
More than 145000 trade visitors attended this year's show in Berlin
Research & skills
Vocational qualification launched at Spanish rolling stock depot
Forum
People
Dieter
Sidetrack
Publications
Diary
Viewpoint
Remote condition monitoring opens up the potential to drive efficiency in the supply chain using experience from the aviation sector, argues Justin Southcombe
Railway Gazette International is the leading business journal for railway operators and suppliers, read in 140 countries. Subscribe to Railway Gazette International today.