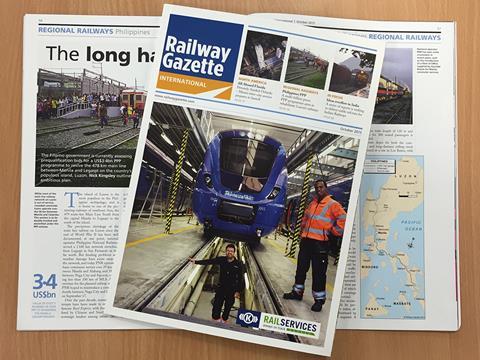 Feature articles in the latest issue of Railway Gazette International, the leading business journal for railway operators and suppliers, read in 140 countries. Subscribe to Railway Gazette International today.
Comment
Time to rise above the hot air
News
Main Line
Urban Rail
Market
Industry
Innovations
Pointers
Analysis
Locomotives take the lead in Shcherbinka show, Beijing plans a suburban network, Scotland debates its high speed vision
north america
Return of the inter-city train
Preparations are well in hand for the launch of All Aboard Florida, a privately-funded project to operate inter-city passenger services along the east coast of the state between Miami and Orlando
Helping the oil to flow
Canadian Pacific has been steadily progressing a programme of upgrading works to improve both capacity and operational fluidity for oil trains. David Lustig investigates
Lakeshore Unlimited: unlocking the potential of GO Transit
Metrolinx is embarking on a radical C$13·5bn enhancement of the GO Transit commuter rail network which would create an intensive all-day electric suburban railway for the Greater Toronto and Hamilton Area
Optimising traffic flows with a hub-and-spoke model
North American railroads are starting to develop hub-and-spoke intermodal networks to serve smaller flows, adopting a distribution model which has become common in the maritime and aviation sectors
Maintaining switches in short windows
Vossloh Rail Services is targeting the Class I railroads with a portable grinding machine designed to enable switch maintenance in very short possessions
Regional railways
Rebuilding business on an inter-regional corridor
Jörg Ostwald of Swiss Federal Railways' Passenger Department briefs Murray Hughes on the project to upgrade and relaunch the Zürich – München service
The long haul back
A US$3·4bn public-private partnership is intended to revive the 478 km Main Line South between Manila and Legaspi in the Philippines
Going up in style
Japan's steepest mountain railway has put a pair of new Series 3000 EMUs into service. Akihiro Nakamura reports
Preview
A Scandinavian rendezvous
The region's railway industry meets for the Nordic Rail trade show in Jönköping on October 6-8
In focus
New Street revitalised
One of Britain's busiest hubs, a £750m refurbishment of the main station in Birmingham was opened on September 20
An overload of ideas
Two expert committees have put forward recommendations for the reform of Indian Railways
Research & skills
Forum
People
Dieter
Sidetrack
Diary
Rail Supply Industry Watch
In our latest quarterly survey, we asked our panel of senior executives where digital products and services would bring the greatest benefits
Railway Gazette International is the leading business journal for railway operators and suppliers, read in 140 countries. Subscribe to Railway Gazette International today.