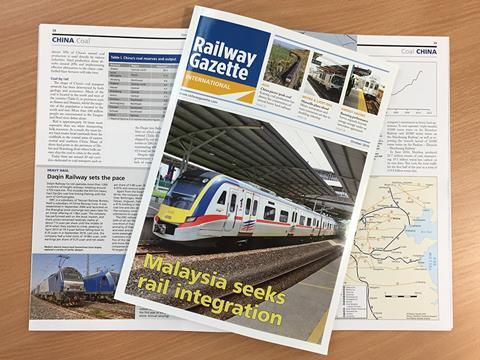 Feature articles in the latest issue of Railway Gazette International, the leading business journal for railway operators and suppliers, read in 140 countries. Subscribe to Railway Gazette International today.
Comment
News
Main Line
Urban Rail
Market
Industry
Innovations
Pointers
Analysis
A cold wind blows in Belfort, Deutsche Bahn prepares to release rolling stock onto the market, next-generation high speed trains emerge in Germany, France and the USA
Southeast Asia
Rail's role in an integration nation
Malaysia's land transport commission SPAD is modernising a legacy main line network and integrating disparate urban rail technologies, as CEO Mohd Azharuddin Bin Mat Sah explains to Nick Kingsley
Second airport link takes shape
A 500m ringgit extension of the Kuala Lumpur suburban network is being built to serve the city's Sultan Abdul Aziz Shah Airport
China passes 'peak coal'
Coal production in China is set to decline in the years ahead, but in the meantime its coal railways are struggling to handle the huge volumes extracted from the mines. Andrew Benton reports
Metro & light Rail
Metro automation tops the agenda in Marseille
Plans to automate and extend Marseille's two rubber-tyred metro lines and to lengthen the tram network are going ahead as part of a drive to double the use of public transport in the Aix-Marseille-Provence Métropole over the next 15 years
Train control supports urban rail projects
Using locally-developed technology, state-owned signalling manufacturer PT Len is providing signalling and train control systems for two urban rail projects in Indonesia
Energy saving & storage
Saving power and boosting performance
Following two successful pilot projects, Philadelphia transport authority Septa will be deploying more lineside energy storage units this year, reducing operating costs and improving environmental performance under a 20-year agreement with its energy supplier
Transforming energy into speed
The next generation of traction transformers for RegioPanter EMUs will use synthetic oils to improve performance and reduce the environmental impact
In focus
Luxury train targets Irish heritage
I August 30 saw the inaugural run of the first luxury touring train on the Irish rail network, with the launch of the Belmond Grand Hibernian
Rethinking regional inter-city services in Victoria
Faster and more frequent inter-city trains connecting Melbourne with smaller towns and cities across Victoria have been proposed to cope with the state's projected rapid population growth. John Kirk investigates
Research & skills
High speed rail research institute to be established in Qingdao
Forum
People
Dieter
Sidetrack
Diary
Viewpoint
Rail Supply Industry Watch
We ask our panel where the rail supply industry should put its focus to ensure the attractiveness and competitiveness of light rail vehicles
Railway Gazette International is the leading business journal for railway operators and suppliers, read in 140 countries. Subscribe to Railway Gazette International today.