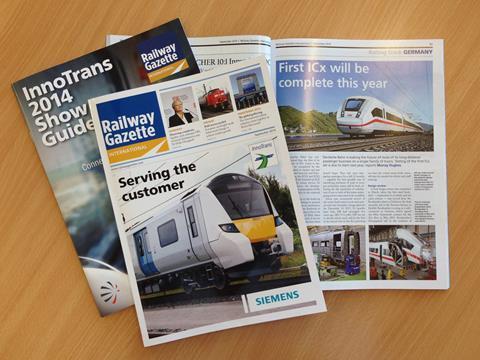 Feature articles in the September 2014 issue of Railway Gazette International, the leading business journal for railway operators and suppliers, read in 140 countries. Subscribe to Railway Gazette International today.
Comment
A question of pricing power
News
Main Line
Urban Rail
Market
Industry
Innovations
Pointers
Analysis
Official report outlines multiple factors in Lac Mégantic accident
SNCF seeks to secure the future of the TGV
Border changes affect Tazara
Germany
Mastering complexity will boost customer satisfaction
Recently appointed as Board Member for Technology & Environment at DB AG, Dr Heike Hanagarth explains how she intends to improve the group's performance across the 'railway system'
First ICx will be complete this year
Deutsche Bahn is staking the future of most of its long-distance passenger business on a single family of trains. Testing of the first ICx set is due to start next year, reports Murray Hughes
Coach competition hits long-distance business
Bus operators have entered the German inter-city market with a vengeance, hitting DB's IC and ICE business
Funding is the key to network development
DB Netz is increasing its budget for maintenance and renewals, recruiting staff and optimising management of major projects. But the ongoing renegotiation of DB's funding agreement with the government will be critical, says CEO Frank Sennhenn
Lehrte MegaHub to open in 2017
Construction is getting underway on an innovative intermodal terminal with automated container sorting technology, which will become a key node in the European rail freight network
A dynamic process
Advances in the weighing of tank wagons offer operational efficiencies for the petrochemical industry.
Freight
Bold moves needed to secure modal share
An analysis of market trends by management consultancy McKinsey suggests a highly uncertain outlook for European rail freight
Facing up to a new reality
Having come through a major corporate restructuring following the economic recession in 2007-08, Austria's Rail Cargo Group is working to position itself as the leading rail freight operator in southeast Europe
Keeping the goods on track
Continuous monitoring is an essential input to support condition-based maintenance of freight wagons
Matching boxes to wagons
A novel online brokerage has launched in the UK to match smaller shippers with vacant space on container trains
A second intermodal revolution is coming
A decade after international intermodal traffic became the biggest commodity moving on North America's railroads, the domestic market offers new opportunities over shorter distances, argues Tony Hatch
PUR pads protect heavy freight corridors
Getzner Werkstoffe has been developing its range of PUR under-sleeper pads designed especially for freight routes
In focus
Bringing Prasa into the wireless control era
Passenger Rail Agency of South Africa is embarking on a R19bn signalling programme that could see networks in Johannesburg, Durban and Cape Town equipped with a locally-adapted variant of ETCS by 2022
ERTMS Regional spearheads Zambian renewal
As part of a wider rehabilitation, a consortium of Bombardier, Huawei and local firm GMC Technologies is equipping Zambia's north-south main line with ERTMS Regional
Regional railways adopt economical train control
The upgrading of Austria's Mariazellerbahn has taken a further step forward with the commissioning of a cost-effective traffic management system using off-the-shelf hardware
Steady growth ahead
Demand for products and services from the railway supply industry is expected to grow at a faster rate in the next six years, according to the latest World Rail Market Study
InnoTrans preview
The global gathering
The world's railway industry meets at the InnoTrans rail technology exhibition in Berlin on September 23-26
Research & skills
La Sapienza university launches Masters Degree programme
DB provides management training in Kazakhstan
Forum
People
Dieter
Sidetrack
Book reviews
Diary
Viewpoint
Only a combination of co-operation and competition can make Europe's railway industry commercially successful, believes Railroad Development Corp Chairman Henry Posner III