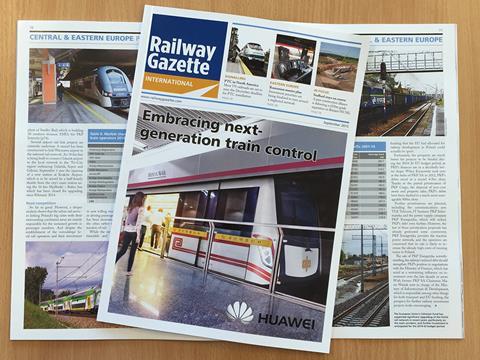 Feature articles in the latest issue of Railway Gazette International, the leading business journal for railway operators and suppliers, read in 140 countries. Subscribe to Railway Gazette International today.
Comment
News
Main Line
Urban Rail
Market
Industry
Innovations
Pointers
Analysis
DB reform agreed
Shareholders lose out in THSRC restructuring
Debate over Tours – Bordeaux high speed service provision
signalling & train control
ETCS and ATO through the Thameslink core
Signalling systems including ETCS Level 2 and ATO are being progressively commissioned to support the high-capacity cross-London service to be introduced in 2018
Railroads 'will not meet PTC deadline'
Deployment of Positive Train Control across the USA will not be completed by the mandated deadline of December 31
A stepping stone to Level 3
An interim stage building on ETCS Level 2 could help railways to realise the benefits of Level 3 sooner and more cheaply
Formal modelling helps to test Ertms specifications
An open-source software tool enables users to model ETCS specifications, test them against agreed scenarios and visualise possible change requests
Keeping track of trains
Frauscher Sensortechnik is broadening its range of sensors
Central & Eastern Europe
Turning round a neglected network
A transport Master Plan specifying investment and institutional change is intended to reverse the decline of Romania's rail sector
Mixed prospects in a fragmented region
Chinese and Russian-backed infrastructure projects offer hope for the railways of the Balkan countries
Leasing model could counteract rising wagon fleet costs
A sale-and-leaseback agreement covering ZSSK Cargo's wagon fleet could provide a blueprint for operators to mitigate the effects of ageing rolling stock
Fresh start or false dawn?
While a decline in the usage of the Polish network has been halted and funding is available for enhancements, concerns remain over the strength of the revival
Dart debut in December
The first of 20 Pesa Dart EMUs will enter service with PKP Intercity later this year
PKP Intercity gets ready to Flirt
A Stadler-Newag consortium is delivering 20 Flirt 3 EMUs for inter-regional services
Trako to draw the crowds
The central European railway industry will gather in Gdask on September 22 to 25
In focus
Stafford stays on course
A pure construction alliance is set to deliver Britain's Stafford Area Improvements Programme more than a year early
Railbus rejuvenated
Porterbrook's 144 Evolution demonstrator showcases the potential for extending the life of former British Rail Pacer DMUs
Vivarail's D-Train on track
The first low-cost DMU developed by Vivarail from former London Underground metro cars is now on test
Research & skills
Educational partnership to help railway development in Sulawesi
Forum
People
Dieter
Sidetrack
Diary
Viewpoint
It is time to revisit track-bridge interaction, argues David Rhodes
Railway Gazette International is the leading business journal for railway operators and suppliers, read in 140 countries. Subscribe to Railway Gazette International today.