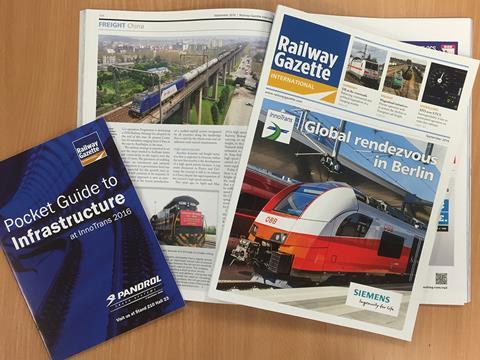 Feature articles in the latest issue of Railway Gazette International, the leading business journal for railway operators and suppliers, read in 140 countries. Subscribe to Railway Gazette International today.
Comment
News
Main Line
Urban Rail
Market
Industry
Innovations
Pointers
Analysis
Scrapping India's railway budget opens door to wider reform, TET revisions confirmed in France, Chinese high speed ridership grows again
Germany
DB faces a cloudy future
Squeezed between increased competition and changing market demands, Deutsche Bahn has been struggling to find a clear commercial strategy
The goal is more traffic on the tracks
State Secretary Michael Odenwald discusses the government's expectations of the national railway with Timon Heinrici
Simple, digital and customer-focused
DB Netz is taking a fresh approach to maintenance, upgrading and new line projects, based on IT, innovation and innovative construction methods. Kerstin Zapp investigates
Success beyond imagination
Kai Pulkkinen and Tobias Heinemann of Transdev reflect on two decades of liberalisation in the German regional passenger market and assess the policy issues still to be addressed
Abellio makes a quick start
Thanks to the use of integrated resource planning and management systems, Abellio Rail Mitteldeutschland was able to mobilise for a new operating concession in only 10 months
Tackling noise on multiple fronts
The federal government has approved additional funding for a variety of mitigation measures, commissioning action plans for the coming years
Back to the black in five steps
Operational restructuring, improved productivity and greater use of digital technology are essential factors in a programme to return DB Cargo's German freight operations to profitability
Freight
Reversing the decline in rail freight
The EU-funded Smart-Rail research project is bringing together private operators and shippers to develop and demonstrate the technology and processes which can support a reliable, flexible and cost-efficient wagonload freight network
Harnessing technology to revive wagonload
The ViWaS programme has explored a wide range of innovations to increase the competitiveness of wagonload rail freight
Mediterranean enhancements essential
Spanish manufacturers and shippers are campaigning for improved rail links with France to carry freight to and from central and northern Europe. Reinhard Christeller reports from Perpignan
Keeping track of wagon data
Making use of the TAF TSI standards, the RSRD² data tool allows organisations across the fragmented rail sector to share and exchange rolling stock data
Developing the next generation of wagons
Russia's United Wagon Company has sought to introduce a new generation of high-capacity wagons based on international technology
Containers up, coal down
Strong growth in intermodal and international traffic is helping to offset a decline in Chinese domestic rail freight volumes, as Andrew Benton explains
Spotlight: signalling
Pioneering ATO over ETCS Level 2
Valuable experience is expected from an early implementation project using ATO over ETCS on the Mexico City – Toluca suburban line
Next steps in train tracking
Combining the emerging technology of Distributed Acoustic Sensing with axle-counter information offers the potential for integrated monitoring of many aspects of railway operations
Testing, baselines and balises
A SIL0 test unit to monitor the quality and performance of lineside equipment is intended to accelerate the deployment of Ertms, reducing the life-cycle cost of inspection and maintenance
In focus
EC250 to start trials next year
Low-floor EMUs designed for 250 km/h are due to enter service on inter-city services through the Gotthard Base Tunnel in 2019
Urban rail drives global growth
Urbanisation and digitisation are set to be the two biggest single drivers of growth in the global market over the next six years, according to the latest World Rail Market Study
InnoTrans preview
Welcome to Berlin
The world's railway industry meets at the InnoTrans rail technology exhibition in Berlin on September 20-23
Research & skills
Forum
People
Dieter
Sidetrack
Diary
Book reviews
Viewpoint
Nigel Davies of QinetiQ warns that digitised railways could be vulnerable to cyber attacks
Railway Gazette International is the leading business journal for railway operators and suppliers, read in 140 countries. Subscribe to Railway Gazette International today.