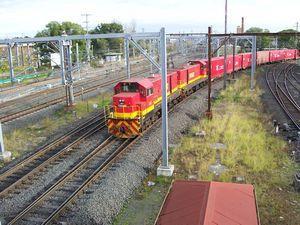 AUSTRALIA: The 2010-11 Commonwealth budget presented by the government on May 11 allocates A$1bn for capital investment by Australian Rail Track Corp, in addition to A$1·2bn provided under the Nation Building economic stimulus package in 2008.
The money will be used on projects which ARTC has identified as being able to offer wider economic and environmental benefits within six months.
These include relaying track, easing sharp curves, installing passing loops, strengthening bridges and increasing axleloads on the main north-south and east-west freight corridors.
This will enable faster running, reducing congestion and cutting up to 44 min from Melbourne - Brisbane transit times and 35 min from Melbourne - Adelaide.
The budget also allocated $8·3m for reform of rail, maritime and heavy goods vehicle safety, which will be regulated nationally from 2013. The national rail safety regulator will be based in Adelaide, with offices around the country to provide day-to-day supervision of urban passenger networks and inter-state freight operations. The Australian Transport Safety Bureau will be responsible for investigating rail accidents nationwide.