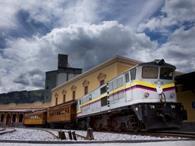 ECUADOR: On July 8 Ecuador Railways General Manager Jorge Eduardo Carrera signed two contracts worth a total of US$30m with FEVE President Ángel Villalba, as the Spanish metre-gauge operator continues to participate in the revival of the Ecuadorian network under an existing co-operation agreement (RG 5.10 p30).
A US$25m contract covers the supply of equipment and services for rolling stock maintenance and refurbishment, managed by Fenit Rail SA in which FEVE has a 37·5% stake.
Worth US$5m, the second contracts covers the supply of an additional four-car tourist train for delivery by December 31 2012 as well as the overhaul of nine Alstom Class 2400 diesel locomotives, three having already been sent to Spain.
Under an existing contract worth $12m, FEVE's El Berrón workshops are currently converting ex-FGC Class 211 EMU cars to produce two luxury tourist trains for Ecuador, as well as three generator vans from converted FEVE wagons.
Ecuador Railways rolling stock maintenance personnel are to be trained at El Berrón, and FEVE has also provided a five-week driving course for seven staff which has included practical experience on Alstom Class 1600 locomotives hauling freight trains.
Under a €3m rolling stock refurbishment programme for the Al Ándalus luxury tourist train (RG 3.11 p27), FEVE is managing work on seven sleeping cars while three vans, the service car and four saloons will be overhauled by the RENFE wokshops in Sevilla. The Al Ándalus is due to resume operations on May 6 2012 with a six-day circuit from Sevilla visiting Córdoba, Granada and Cádiz.