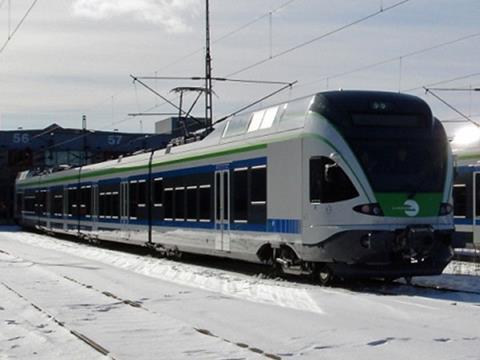 FINLAND: The first of 32 Stadler Flirt electric multiple-units ordered for commuter services in Helsinki and southern Finland went into regular traffic on November 18.
The previous week two units had been formally handed over to national railway VR after a year-long test phase. The second is currently being used for staff training, and is expected to enter service in mid-December.
Designated Sm5 by VR, the 1 524 mm gauge Flirts are Stadler's first broad gauge trains. The body has been widened to 3·2 m to take advantage of the larger clearances available, and triple glazing and insulation up to twice the normal thickness is intended to cope with temperatures as low as -40°C.
The HVAC system uses warm exhaust air from the passenger saloons to preheat the cold fresh air intake, substantially reducing energy usage. Underfloor heating is installed in the entrance areas, with fan heaters to help maintain a constant temperature while the doors are open.
The €190m order for the Flirts was placed in late 2006 by Junakalusto, a body formed in 2004 by state railway VR (35%) and the Helsinki, Espoo, Vantaa and Kauniainen local authorities (65%) to acquire rolling stock for local services in the Helsinki region, including on the airport line which is currently under construction.