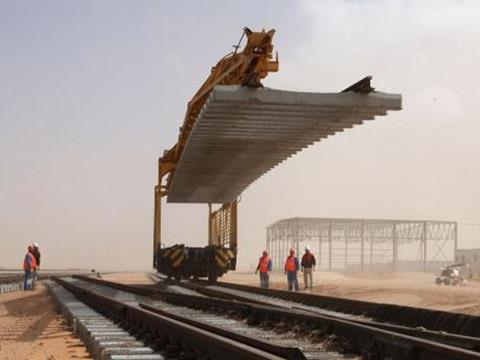 LIBYA: The first 14 km of track has been laid for the 554 km Surt - Banghazi railway, Russian Railways has announced.
RZD is building the line parallel to the Mediterranean coast under a €2·2bn contract signed in April 2008, and President Vladimir Yakunin visited the construction sites on March 14 to meet Chairman of Libyan Railways Said Mohammed Rashid.
At present 438 people are engaged on construction, which is expected to take four years and will employ a total of 3 500 local and Russian workers.
'This is the first transport sector project on such a scale in the history of the two countries', said Yakunin. 'Russian Railways, having a wealth of experience in carrying out such projects, is confident that it will meet the timeframe, while achieving a high level of quality. The use of Russian-produced maintenance vehicles will help achieve this goal. This project therefore provides Russian companies with the opportunity to enter new markets.'
Trains will initially run at 160 km/h, but the double track alignment makes provision for electrification to allow running at 250 km/h. According to RZD the project includes 1 000 'artificial structures', including 30 rail and 23 road bridges, and six major and 24 minor stations.
Separately, China Railway Construction Corp has contracts covering the 625 km west from Surt to Al Khums, Tripoli and Ras Ejder on the Tunisian border, and an 800 km link inland from Misratah to iron ore deposits near Sabha.