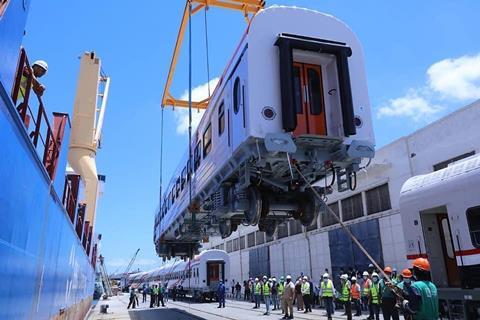 EGYPT: TMH International delivered an initial batch of 22 third-class, forced ventilation loco-hauled passenger coaches to the port of Alexandria on June 25 as part of its contract to supply 1 300 vehicles of five types to Egyptian National Railways.
The first 22 vehicles were manufactured by the Transmashholding subsidiary TVZ at its Tver plant in Russia and shipped from St Petersburg on June 7.
The €1bn contract will see TMH supply 500 third-class and 180 second-class coaches with air-conditioning, of which 676 vehicles will be assembled at TMH's Dunakeszi plant in Hungary. A further 500 third-class coaches with forced ventilation, 90 first-class air-conditioned coaches and 30 buffet cars are to be manufactured at Tver.
'We are extremely pleased to have been able, despite the challenging context of the Covid-19 pandemic, to deliver on-time the first coaches to ENR and to successfully complete the certification test campaign in Hungary and Egypt. This is the result of the joint efforts of a multi-country team in Egypt, Russia, and Hungary, working in close co-operation with the customer', said David John, Chief Technical Officer & ENR Project Director at TMH International.