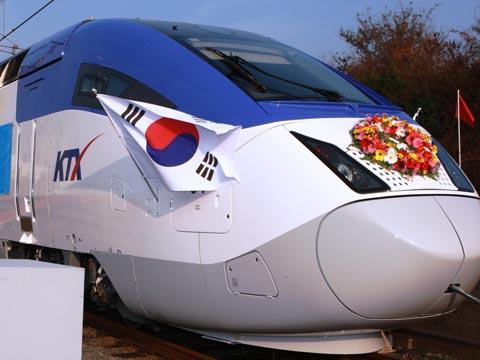 SOUTH KOREA: Celebrations were held at the Hyundai Rotem plant in Changwon on November 25 to launch the country's first locally-developed 300 km/h trainset.
Joining the roll-out ceremony were the Chairman of the National Assembly's Committee on Land Transport & Maritime Affairs Lee Byung Suk and the Vice-Minister of Transport Lee Jae Kyun, along with representatives of national rail operator Korail and more than 500 guests.
The culmination of more than 10 years of research and an investment totalling 255·8bn won, KTX-II is the commercial evolution of the HSR-350 prototype, which was developed under a project led by the Ministry of Knowledge & Economy, and the Ministry of Education, Science & Technology. The programme has involved more than 6 600 people from 129 organisations including Hyundai Rotem and other suppliers along with various research institutes.
The first trainset is expected to undergo six months of test running before entering revenue service, operating on both the Gyeongbu high speed line between Seoul and Daegu and on conventional tracks.
It is the first of 19 trains that Hyundai Rotem is building for Korail. The operator ordered an initial build of 10 sets in 2006 for the Honam line between Seoul and Mokpo line and a further nine the following year for the upgraded Jeolla line to Suncheon and Yeosu. KTX-II sets will also be used on the Kyeongjeon line. Six sets are to be delivered by June 2009, four in June 2010 and the extra nine by the end of that year.
Designed for a maximum speed of 330 km/h, KTX-II has aluminium bodyshells and a streamlined profile to minimise air resistance and improve energy efficiency. High-power traction motors, inverters and the traction control package were developed locally by Korean companies, as was the train's new braking. According to the Korea Transport Institute, the high speed train development programme is expected to generate benefits worth 7?500bn won.
Unlike the French-designed KTX sets used on the Gyeongbu line, which have a fixed 20-car formation, the 10-car KTX-II trains can be used singly or in pairs, allowing Korail to match capacity to demand more closely. The new trains also have rotatable rather than fixed seating throughout, together with family compartments, accessible toilets and on-board wi-fi access.
According to Hyundai Rotem, the proportion of Korean content in the KTX-II sets is 87%, compared with 58% for the locally-assembled KTX trains.